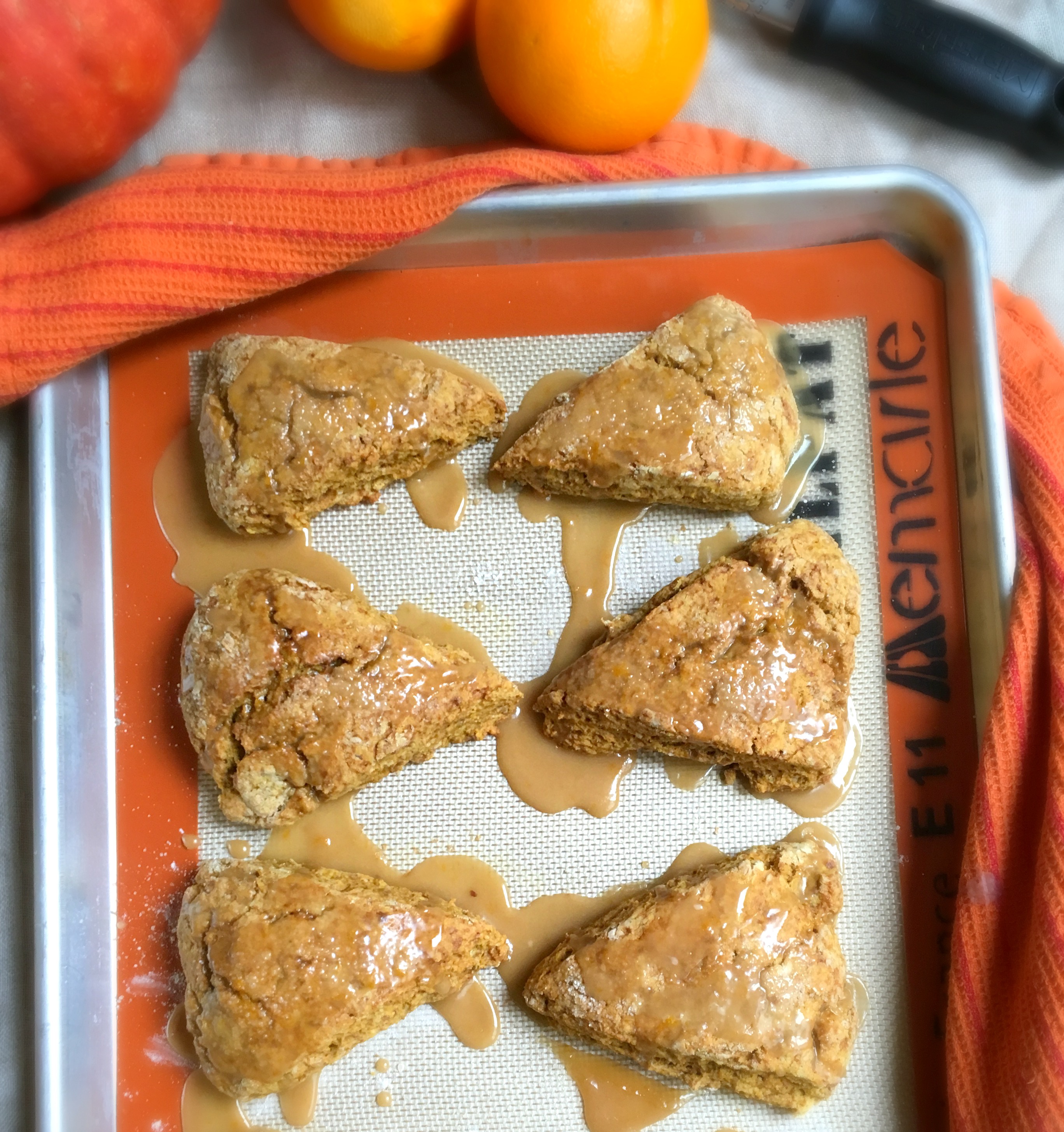 I think you are on to my obsession of apples, apple orchards, and pumpkin-anything by now.  It's real. And, I have to admit that I'm in a bit of withdrawal without the bakery.  We'd pumpkin everyone out when the season rolled around, and, this year, I'm completely failing to fill my pumpkin quota.  I can't find the goods and, let me tell you, I'm looking.
Not surprising, fall at the bakery was my favorite with the city bustling after the summer exodus, a chill in the air (if we were lucky), our overtly warm interior from all of the bakery equipment finally appreciated, and a certain calmness before the holiday storm.  Plus, and most importantly, it was the season of my favorite flavors: apple, pumpkin, and anything spiced.  Am I sounding like a broken record yet?  Well, call me what you may, but these Pumpkin Scones with Maple Orange Glaze will have you taking it back in no time.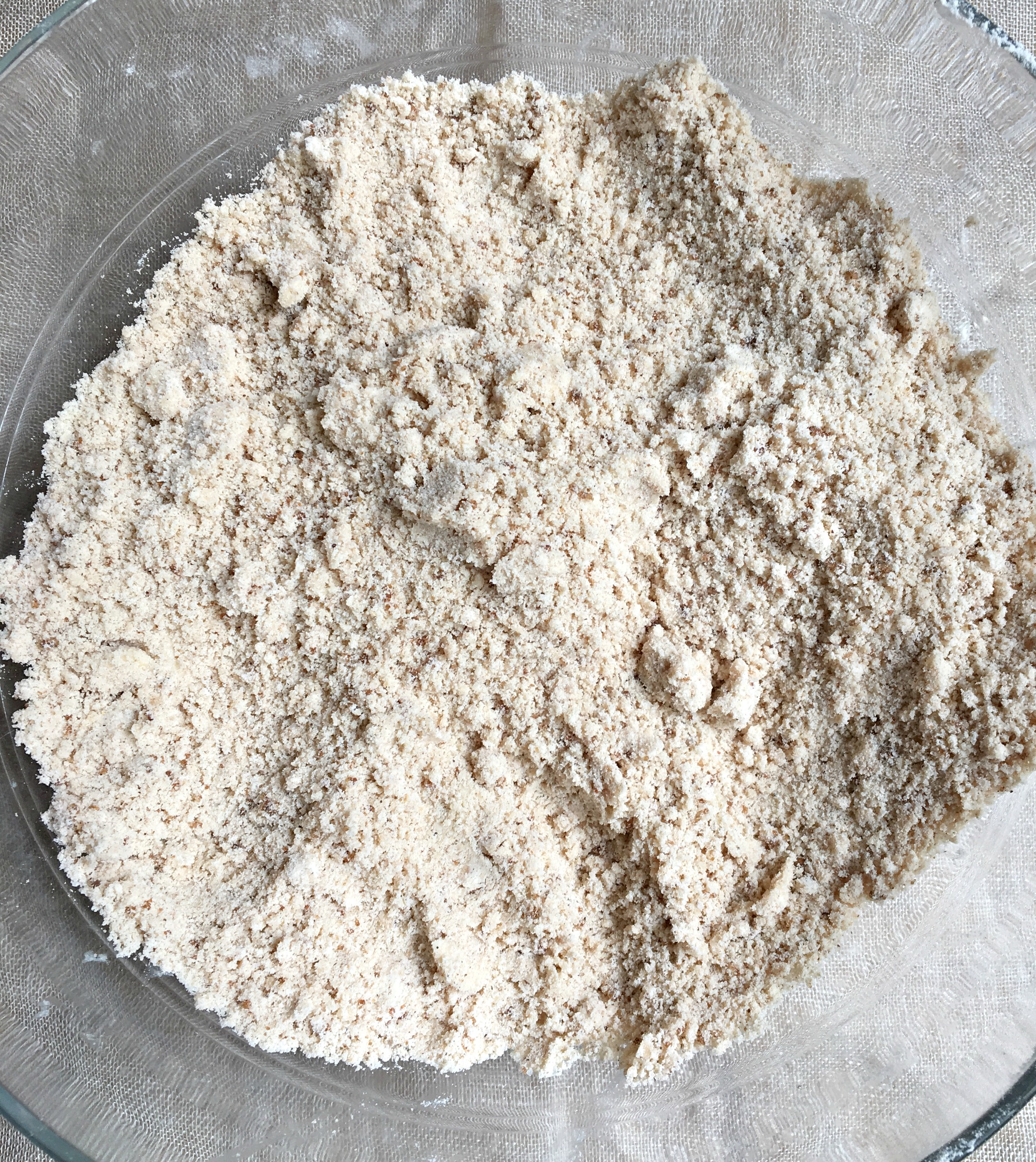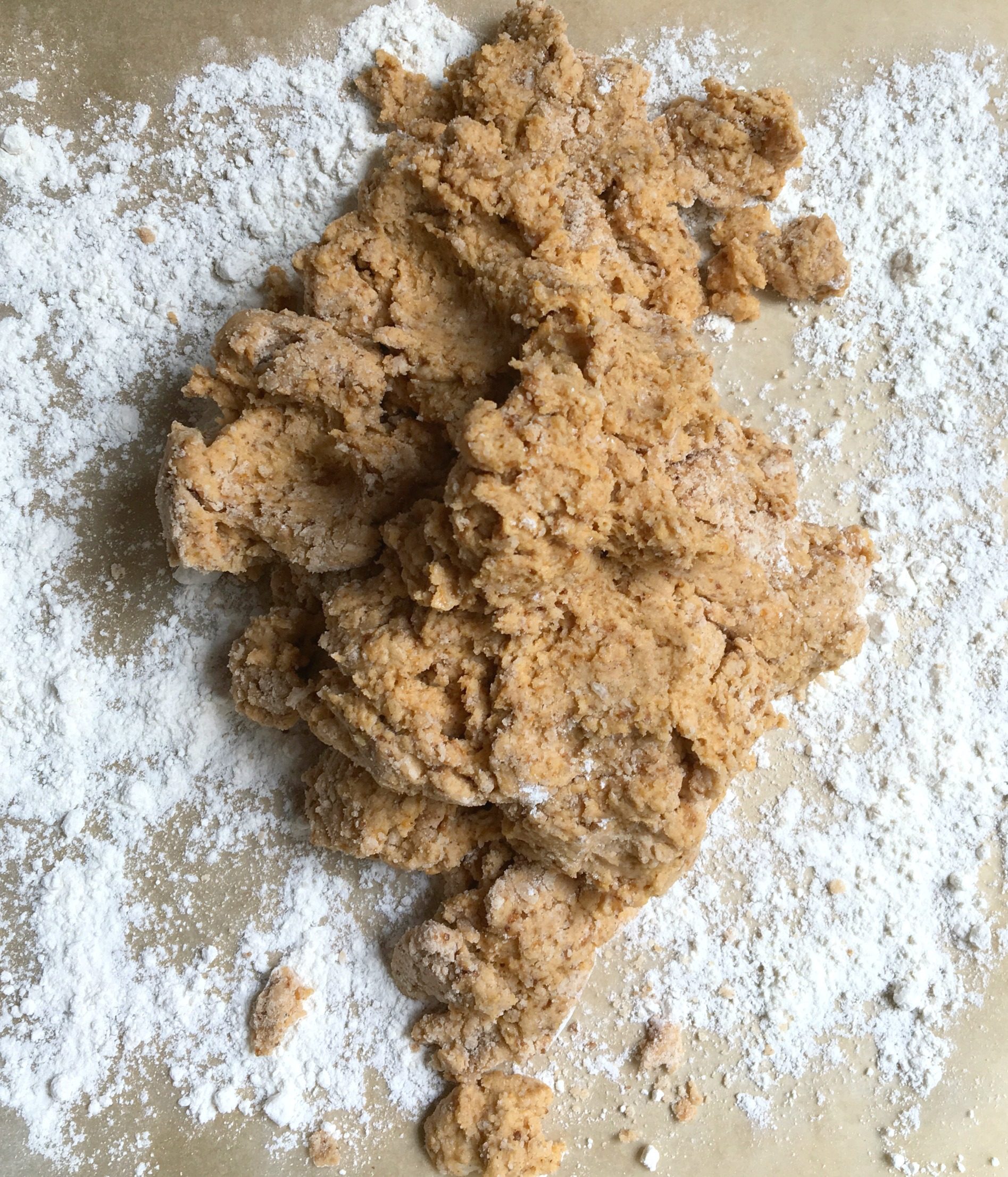 While Flour & Co was strictly a biscuit house, I'm shaking things up by turning our Pumpkin Biscuit into a Scone.  Yep, crazy stuff going on here.  In reality, the difference is subtle.  Biscuits and scones are fraternal twins.  However, biscuits have the tendency to work people up with the anticipation of the perfect oven rise, and they have a bad rap for being persnickety.  It's true – biscuits require some precise handling and perfect conditions. Scones, on the other hand, usually include eggs, are a different shape, are less high maintenance, and are more forgiving.  Translation: you can master this scone at home without fuss.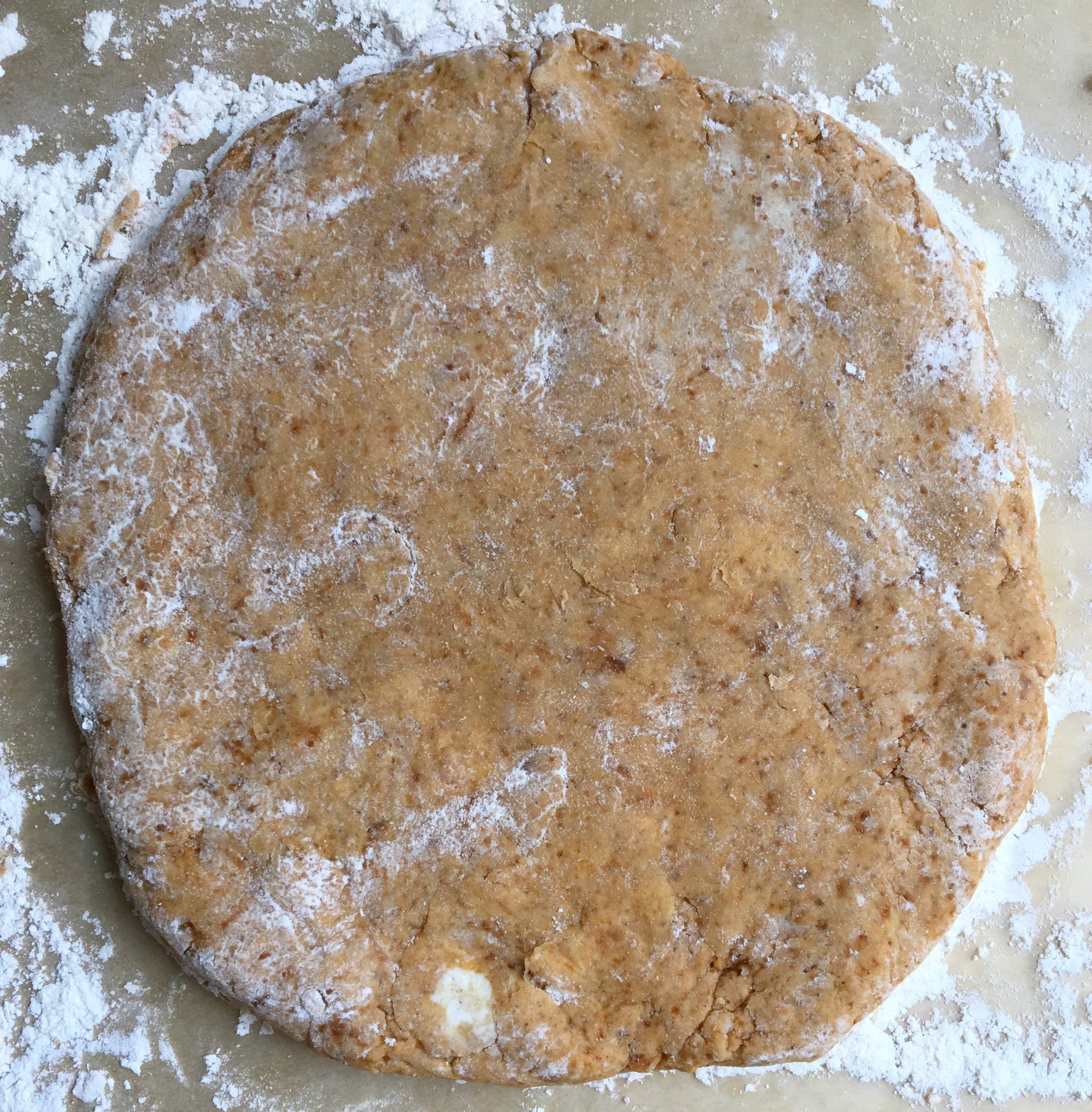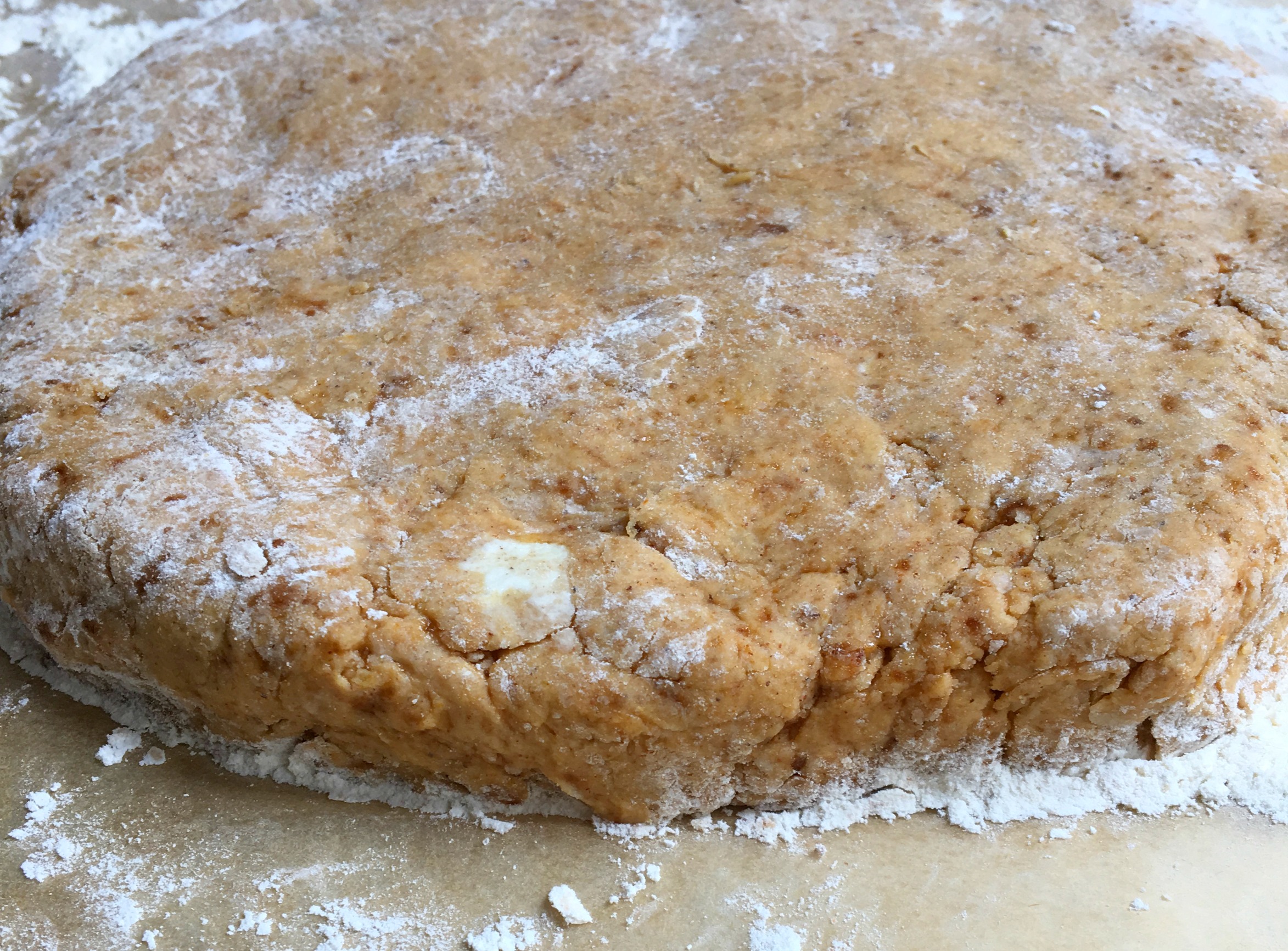 Recipe testing was one of our favorite past times at the bakery.  Biscuits were our favorite subject with fall biscuit flavors topping the list.   The sweet and savory combinations were endless (based on our original buttermilk biscuit recipe) and we lived for those moments of tasting the latest creation.
Jamy, our production manager, and I would throw around ideas throughout the year and then she'd lead the charge in the recipe testing and perfecting.  She'd let me know in the morning if we had something to taste that day and I'd know when she came out of the kitchen later in the day that it was time for the taste test.  I loved that moment.  A special little treat to perk up our day, and there's an unmistakeable buzz when you hit the jackpot with an amazing flavor combination.  Ahh, I miss those moments.  It was on one of these testing days that Jamy created the perfect pumpkin biscuit.  We tasted it back in the kitchen after a busy morning out front, and we knew we'd found the winning profile with the glaze being the secret weapon.  Yum.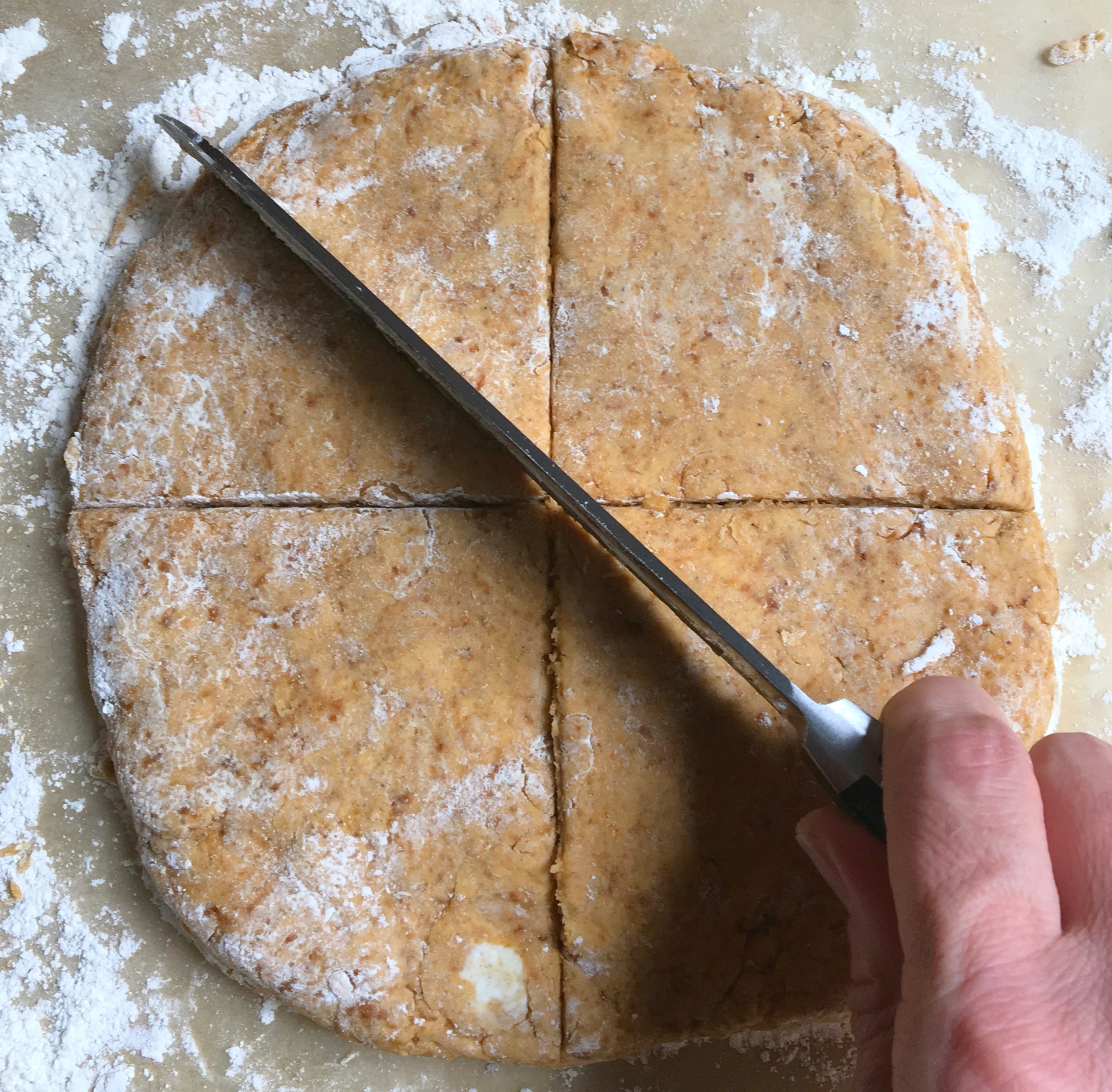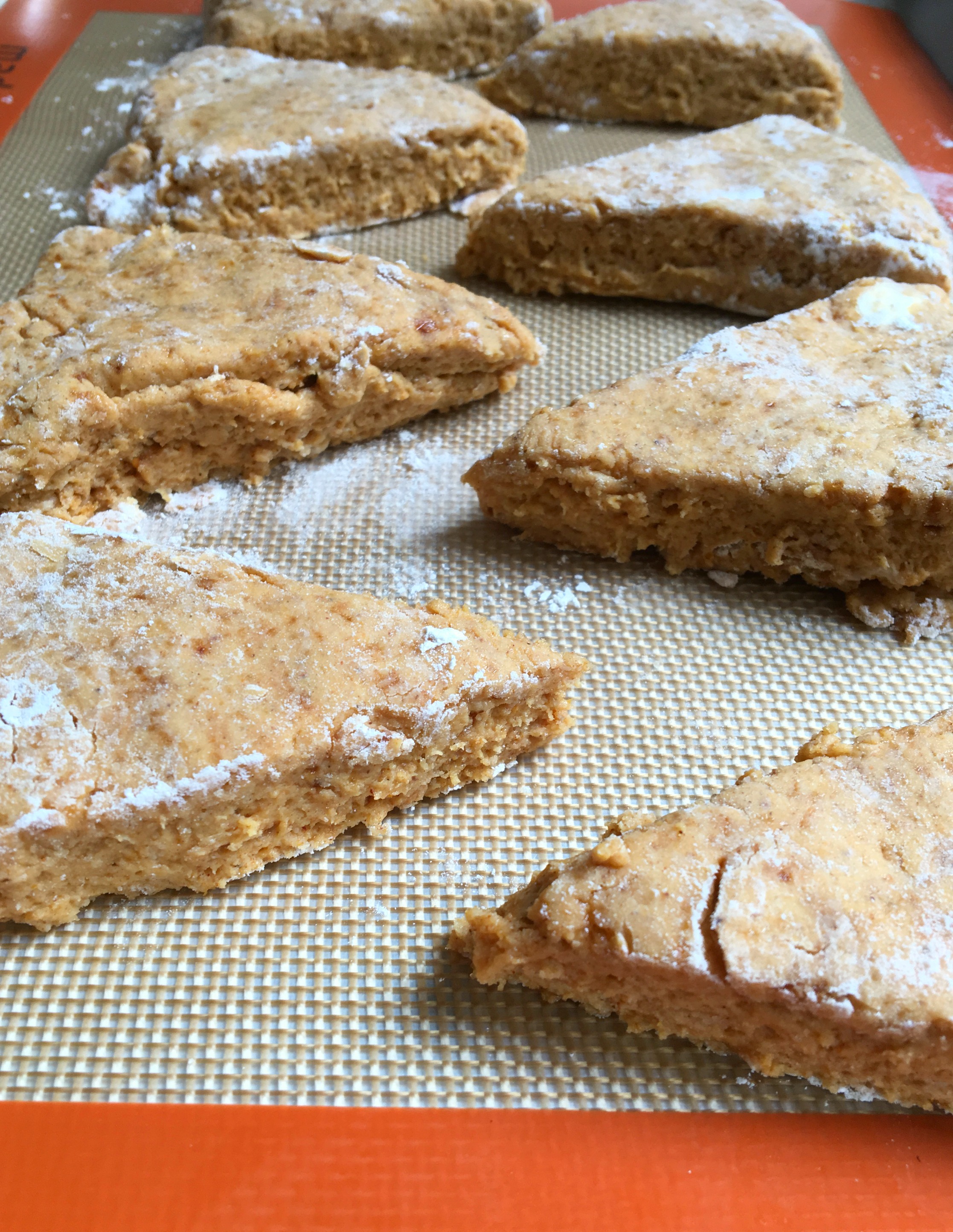 So, here it is.  The Pumpkin Scone with Maple Orange Glaze.  They are perfectly spiced with a subtle orangey maple finish that turns a regular pumpkin scone into something quite spectacular.  Best yet, they are simple to make at home, and you can make them ahead of time (minus the baking) for an any day breakfast (or snack) treat.  Bake them while pumpkin supplies last.
My most awesome idea yet: make them now (and freeze) for baking off on Halloween or Thanksgiving morning. No fuss AND festively delicious.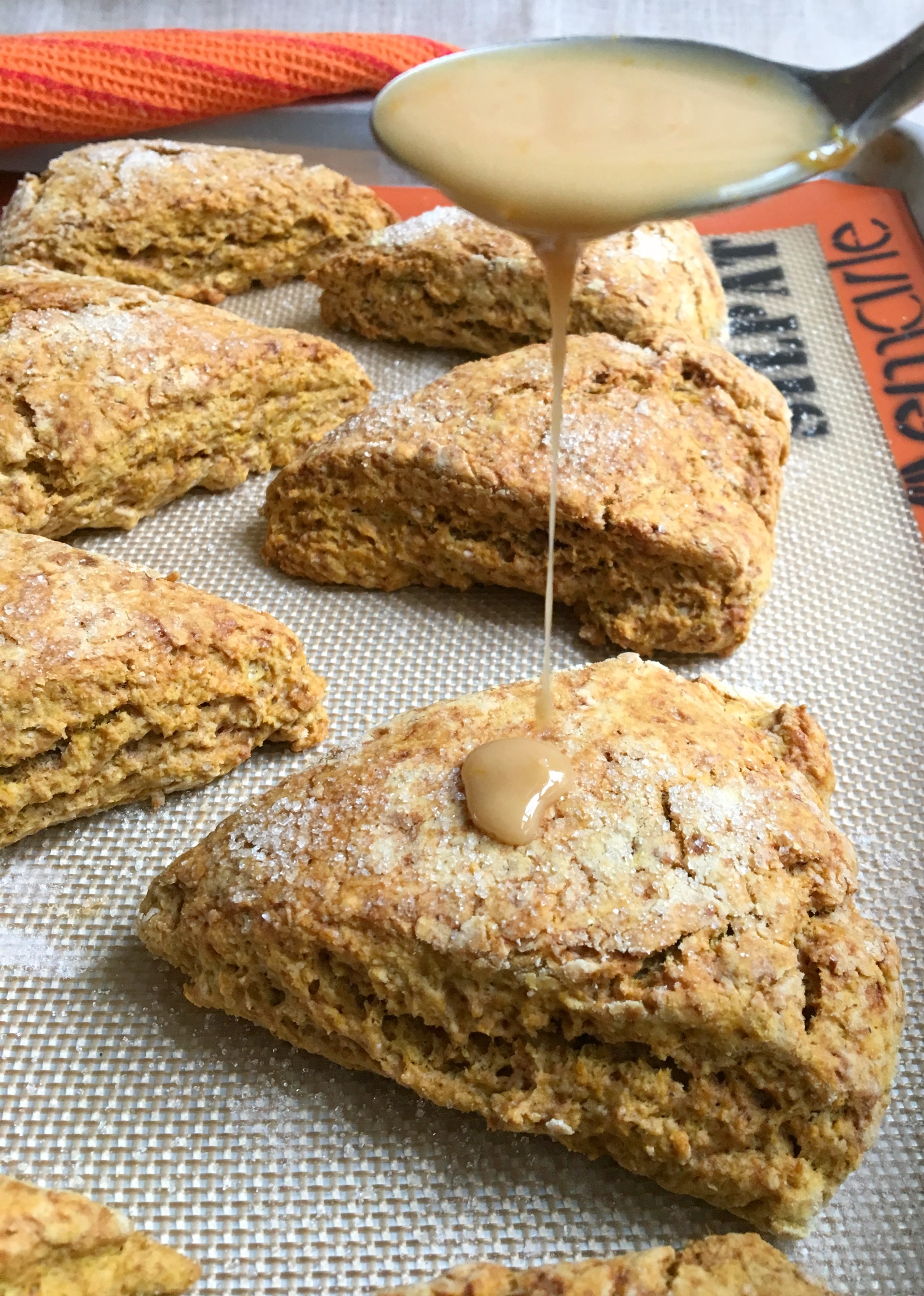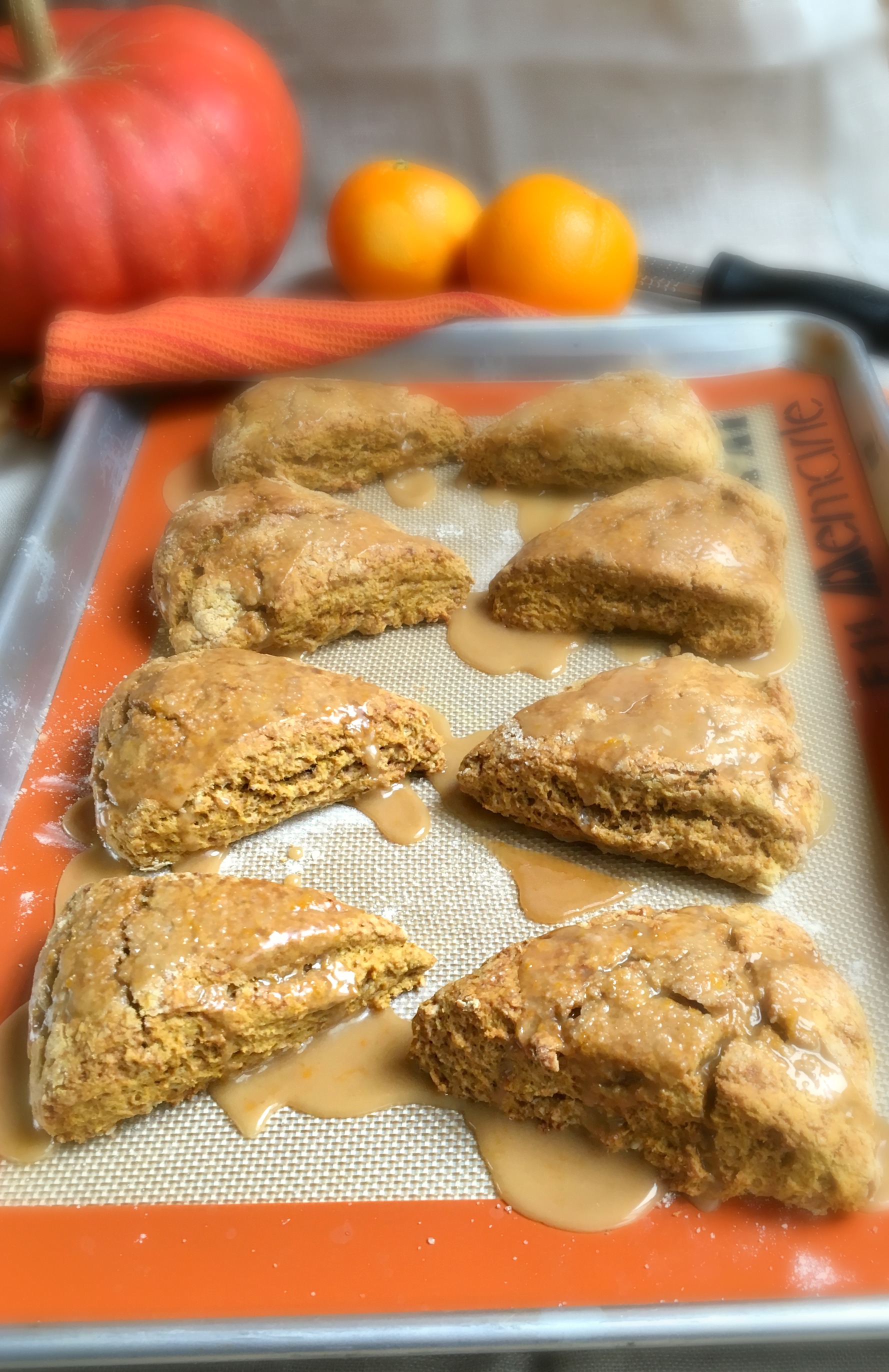 Print
Pumpkin Scones with Maple Orange Glaze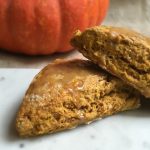 These Pumpkin Scones with Maple Orange Glaze are oh-so-perfectly spiced and the subtle orange and maple finish puts them in their own league.  Make them ahead and bake later for a delicious breakfast or snack any day of the week.
Author:
Prep Time:

15 min

Cook Time:

20 min

Total Time:

35 minutes

Yield:

8

Category:

Biscuits & Scones
Ingredients
Biscuit Ingredients:
2 cups all purpose flour
2 tsp baking powder
1/2 tsp baking soda
1/2 tsp kosher salt
2T granulated sugar (plus a couple tablespoons extra for dusting later)
2T light brown sugar
1 tsp ground ginger
1 1/2 tsp ground cinnamon
3/4 tsp ground nutmeg
1/2 tsp ground cloves
1/3 cup canned pumpkin puree (like Libby's)
1/2 cup (4oz) butter, cubed and cold
1/3 cup buttermilk, cold
1 egg
Maple Orange Glaze Ingredients:
1/2 cup powdered sugar
1/3 cup maple syrup
1/4 tsp orange zest
Instructions
Line a baking sheet with parchment or a silicone baking mat.  Set aside.
Combine dry ingredients, through ground cloves, in a bowl.  Stir to combine.
In another small bowl, mix together the pumpkin, buttermilk, and egg.  Set aside.
Add the cold, cubed butter into the dry mix.  Using your hands or a pastry cutter, quickly combine the butter and dry ingredients until it's sandy in texture, with no bigger than pea size pieces of butter.  You don't want the butter to get warm and melty.
Add the pumpkin/milk/egg mixture to the dry ingredients.  Stir with fork until it lumps together.  Dump the dough onto a lightly floured surface, avoiding using too much flour.
Shape the dough into a circle with a thickness of about 1".  Cut the circle into eight pieces.
Transfer the pieces to the prepared baking sheet.  Sprinkle each piece with a pinch of granulated sugar. Place in the refrigerator for at least 30 minutes to chill.
Preheat oven to 400 degrees (after chilling 30 minutes).
For the glaze, combine the ingredients, stirring until smooth with a fork or small whisk.
Place the chilled tray of unbaked scones in the oven for 20 minutes or until golden brown.
Cool the scones for about 10 minutes.  Spoon 1.5-2 tablespoons of the glaze over each scone.  Let set for 5 minutes before serving.
Notes
Don't buy buttermilk just for this recipe.  If you have white vinegar or lemon juice at home, put 1 teaspoon in a 1/3 cup measuring cup.  Fill the rest with milk (whole if you have it).  Let it sit for a few minutes before adding.
When I shaped the dough into a round before cutting into "pizza" slices, it measured about 8 inches.  The thickness should be approximately 1 inch (which is the more important measurement).
This recipe was made using Libby's Pumpkin Puree.  Some purees vary with texture and liquid content, so it's worth mentioning.
These scones can be made ahead of time and baked as desired.  Complete the instructions through #6.  Transfer the scone slices to a freezer safe container.  Sprinkle each slice with a pinch of granulated sugar.  Place the container into the freezer until you are ready to bake.  When ready to bake, continue with #8 of the instructions.  Place the scones slices on a prepared baking sheet.  Bake at 400 degrees for 20-24 minutes from frozen.  The bake time might be closer to 24 minutes given they will be frozen instead of just chilled.  Wait to make the glaze until the day you are baking the scones.
We used organic flour, butter, sugar, eggs, and milk at the bakery which I also try to do at home.  Great ingredients make for great goodies!
Happy fall baking!  If you bake these Pumpkin Scones with Maple Orange Glaze, share your photos with the hashtag #flourandco.  I love seeing your finished products!