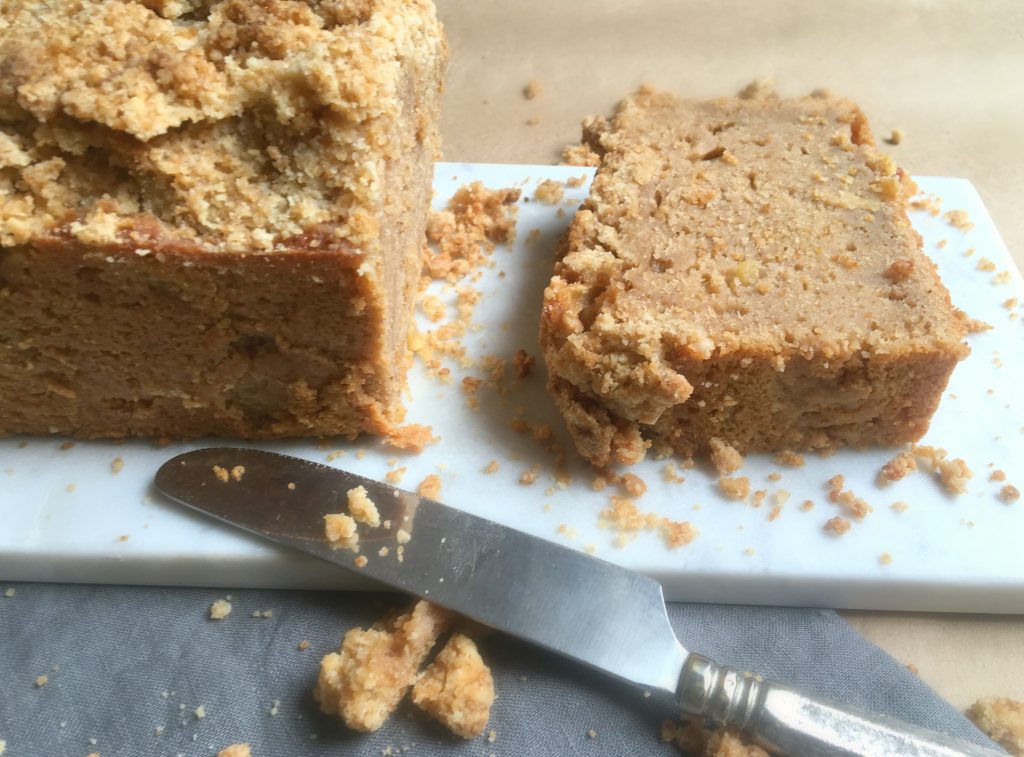 Each year as fall approaches I scratch my head wondering how we got back here so quickly.  It takes me a minute to accept summer's departure, and then the first sunny day with a chill in the air comes along, and fall's got me.  Forget summer vacations, sandals, garden fruits and veggies, and berry baked goods.  Hello all things fall (and cozy): sweaters, changing leaves, crisp walks, apple orchards, pumpkin patches, and BAKING.  This Apple Cider Streusel Bread kicks my fall bake-a-thon off right.
As a Minnesota girl (where the seasons hit you in the gut), I've had to develop a bit more of an imagination living in San Francisco.  Summer feels no different than winter, Indian summer hijacks September and October (nice, but distracting from my favorite season), and then…wait a second…the holidays are here?!
With the less obvious temperature and visual cues (leaves), one's senses are left to connect the dots, and using all of the senses is imperative.  Everyone hits the back to school mode (cue #1), labor day comes and goes (cue #2), friends and family (not in CA) start talking about pulling out the wooly clothes (cue #3), pumpkin and apple photos take over social media (cue #4), and then there's one random day that feels just like a fall day in MN (CUE #5).  And, I'm in.  All in.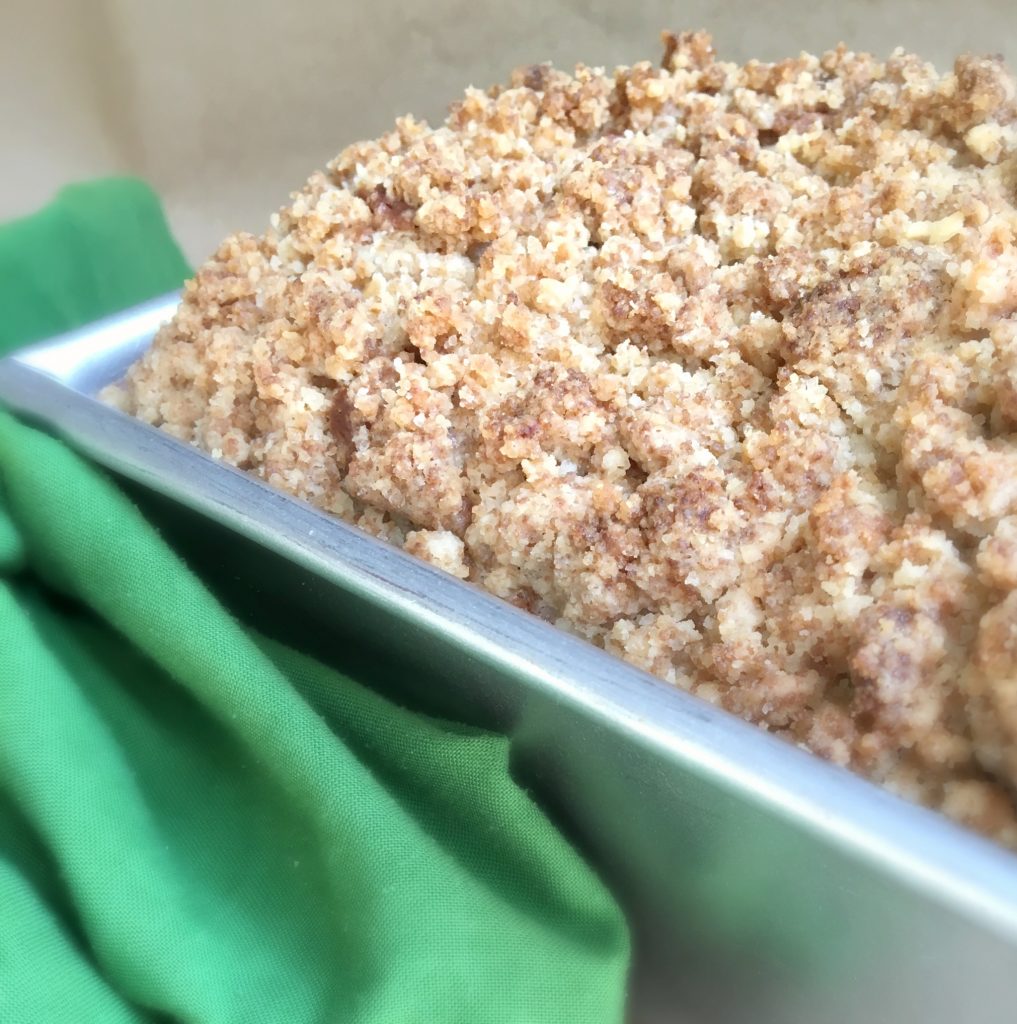 One of my favorite fall activities?  Visiting the apple orchard (happening this weekend!).  We went every year while growing up, and I look forward to keeping up that tradition with my boys.  Picking apples, eating an apple from the tree, drinking apple cider, and devouring apple cider donuts make for a pretty perfect day.  Apple cider donuts are pretty perfect all on their own.  Cinnamon and sugar sprinkled on a mellowly spiced, apple-spiked cake donut is delicious.
So, when developing the fall recipes for the bakery (5 years ago), I was on a mission to recreate the apple cider donut in a quick bread format.  Without a fryer, donuts weren't possible, but the flavors of that perfect donut were absolutely possible.
Apple Cider Streusel Bread = apple cider donut – the donut + dense, moist quick bread.  Yum.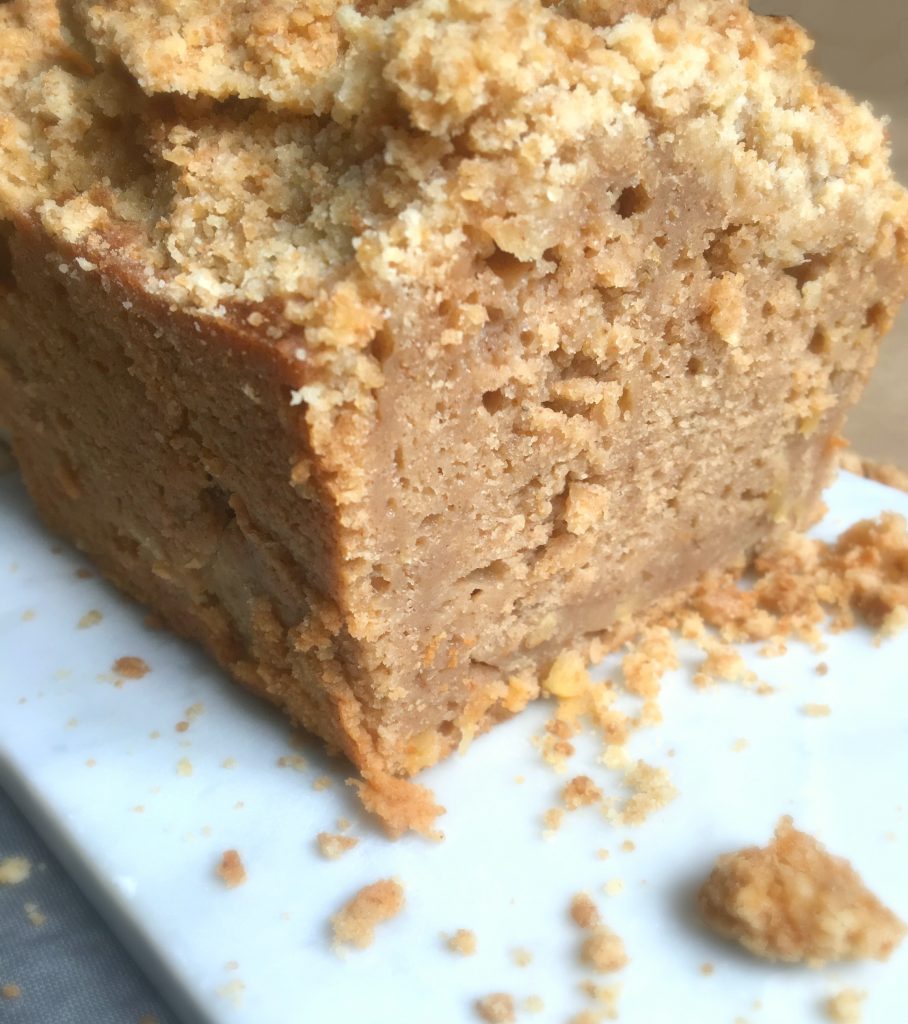 You will get a full report of the apple orchard and the resulting baked apple frenzy next week, but until then, whet your appetite with this.  Note: drizzle some caramel on this bread and you've got caramel apples.  It's soooo good.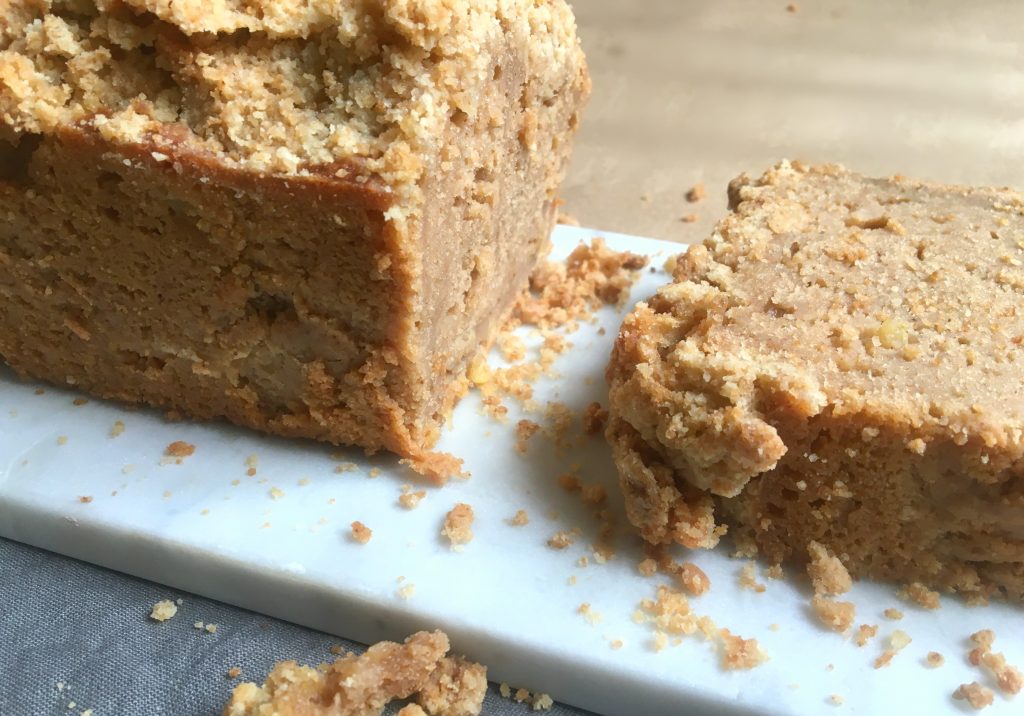 Print
Spiced Apple Cider Crumb Bread
This apple cider quick bread is reminiscent in flavor of an apple cider donut from the apple orchard (which I happen to love).  It's super moist and perfectly spiced, sure to become a fall tradition in your kitchen!
Author:

Emily Day

Prep Time:

15 min

Cook Time:

1 hour 10 minutes

Total Time:

1 hour 25 minutes

Yield:

1 loaf

Category:

Quick Bread
Ingredients
For the Streusel Topping:
1/4 cup granulated sugar
1/4 cup light brown sugar
3/4 cup all purpose flour
1/2 tsp kosher salt
5T unsalted butter, melted
For the Bread:
1/2 cup granulated sugar
1/3 cup light brown sugar
1/4 cup unsalted butter, melted
2 eggs
1 tsp pure vanilla extract
1/3 cup sour cream
1 cup apple cider (or natural apple juice)
1 tsp lemon zest (about 1 lemon)
5 ounces peeled, cored, and diced apple (about 1 small apple, 1/2″ dice)
2 cups all purpose flour
1 1/2 tsp baking powder
2 tsp ground cinnamon
1/4 tsp ground nutmeg
1/4 tsp ground cloves
1 tsp kosher salt
Instructions
Preheat the oven to 350 degrees.  Grease a quick bread loaf pan (usually 9″x5″).  Set aside.
For the streusel topping, mix all of the ingredients together in a bowl until well combined.  Set aside.
For the bread, using a whisk, mix together the butter and sugars.  Add the eggs, whisk.  Add the vanilla, whisk.  Add the sour cream, apple cider, and lemon zest.  Whisk until combined.  Stir in the diced apple.
Combine all of the dry ingredients in separate bowl.  Sift the dry ingredients into the wet.  Using a spatula, fold in the dry ingredients just until combined.  Do not overmix.
Pour the batter into the prepared loaf pan.  Sprinkle the streusel on top.  Place the loaf pan on a baking sheet (to catch any drips) and bake in the pre-heated oven for 1 hour and 10 minutes.  Due to varying oven temperatures, start testing the doneness of the bread at 1 hour (with a toothpick or knife).  I took mine out at 1 hour 5 minutes, but it could have used the extra 5 minutes (for a total of 1 hour, 10 minutes).
Notes
Sometimes apple cider can be hard to find if you haven't made it to the apple orchard.  I used North Coast Organic Honeycrisp Apple Juice instead of apple cider (found at the grocery store in the shelf-stable juice aisle).
I used Honeycrisp apples, but any crisp, slightly tart apple will work just fine.
The streusel on this bread gets crisp and fragile, so cut with care using a serrated knife and sawing into the streusel (instead of just pushing down through it).
This bread works great baked ahead, cooled completely, wrapped tightly in plastic wrap, and served the next day (or even two).
Fancy it up with a drizzle of caramel sauce.  So good.
Happy fall baking!  I'd love to see your creations (or your trip to the apple orchard), so if you bake this, post your photos with the tag #flourandco!