Where was Flour & Co? We were located in Lower Nob Hill of San Francisco.  We opened in April 2013 and closed in January of 2017.
What was special about the Flour & Co concept? Flour & Co was a modern American bakery featuring Flour's pals, Butter, Sugar, Eggs & Milk.  Flour & pals represented our mantra ~ 'we are so good together.'  In baked goods and in business, we believed that the best ingredients came together, from scratch and with love, to make somethings that were truly worth savoring.  We always used organic flour, butter, sugar, eggs, and milk. Plus, we used all natural and seasonal ingredients.  When you use the good stuff, everything can be enjoyed in moderation.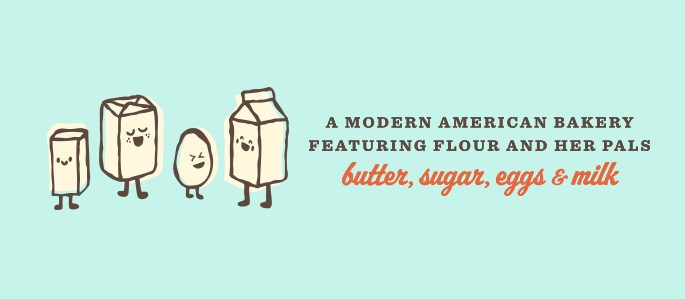 Can I use the Flour & Co pals (illustrations) for my own use?  Nope, they are part of the Flour & Co brand and logo.  Rubber Design lovingly illustrated them with our entire brand portfolio.  Flour's pals have to stick with Flour & Co.
Did you develop the bakery's recipes?  I love recipe development and spent six months developing the opening recipes for the bakery – some from scratch based on standard baking ratios, some based on the makeup of categorical recipes (ie. cookies), and others were translations of published recipes.  Once open, my baking team (and especially our original production manager) contributed to our recipe line up – development and testing.  There's love in each and every recipe!
Are the photographs taken by you?  Beginning in August of 2017, the photographs are taken by me (unless noted otherwise).  I'm still learning, so be kind.  The professional shots of the bakery and goodies were taken by jendoanphotography.  Some photographs, from the bakery days, were taken by our team members, friends, and guests.
I'd like to use a photo or recipe on my site, blog, etc.  Please do and link back to the original (on Flour & Co blog), with a mention.  Thank you!
Will there be a Flour & Co cookbook?  I'd love to write one if and when the time is right.  You'll be the first to know!