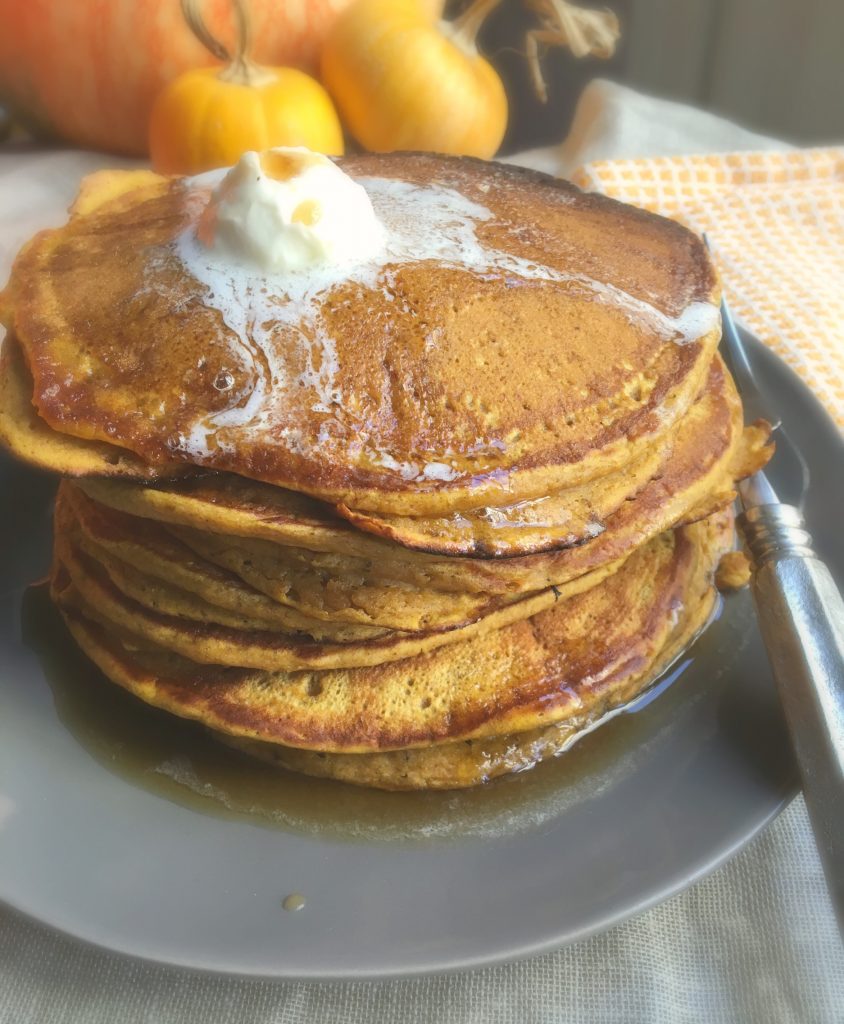 Pumpkin spice pancakes have made my favorite breakfast list for a couple decades. Gulp. It seems like just yesterday I was devouring one of these plate-sized pancakes at Parker's Maple Barn in New Hampshire.  Talk about feeling fall through and through.  New Hampshire's changing leaves, a brisk chill in the air, pumpkin patches along the trek, a maple farm in the woods, and a pumpkin pancake set before you with the farm's maple syrup to flood the plate…er…drizzle over the cake.
How did I get to Parker's Maple Barn…many a weekend?  It starts with the fact that I'm a true believer in 'breakfast is the most important meal of the day'.  While my breakfast habits have varied slightly through the years, some things remain unchanged.  Toast is my go-to weekday breakfast. Pancakes have held a prominent place in my weekend repertoire since growing up (thanks Mom and Dad).  I add a breakfast treat whenever given the option (donut, cinnamon roll, muffin, scone). I love eating breakfast out, and developed a true appreciation for it in college (UNH) where we'd hit up Jake's (closed many years ago) on the weekends for delicious and amazingly big plates of omelets, breakfast meats, and super thick slices of homemade toast and jam.  A pancake for the table was a must, and it often was a special seasonal flavor.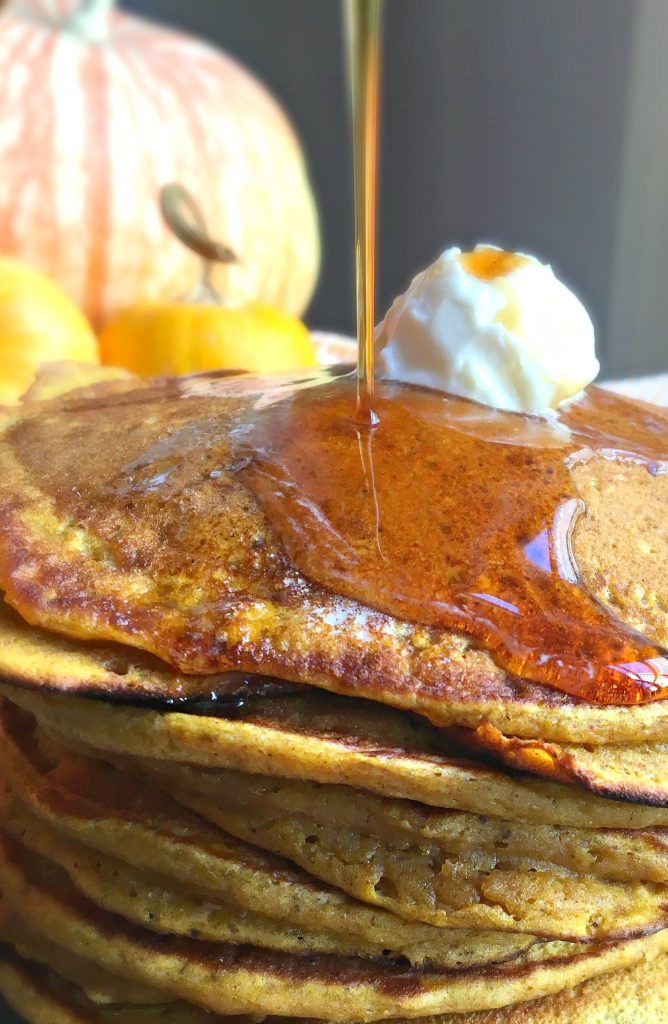 And that brings me to Parker's.  After college, having moved away from Durham, I had to search for a new breakfast spot that could live up to Jake's.  It was a daunting task, but I found the mother of all breakfast places, Parker's Maple Barn, with a little investigation and the willingness to drive for pancakes…the best pancakes, including the aforementioned pumpkin pancake, served each October.  It was a bit of a hike to be sure, but worth the drive and two hour wait.  It's the ultimate weekend breakfast retreat.
Are you booking flights yet?  An autumn foliage trip to New Hampshire with a drive to Parker's for breakfast may as well be the poster child for fall.  I wish that we could swing it this year, but my rendition of their pumpkin pancake will have to be the bridge to our next fall getaway.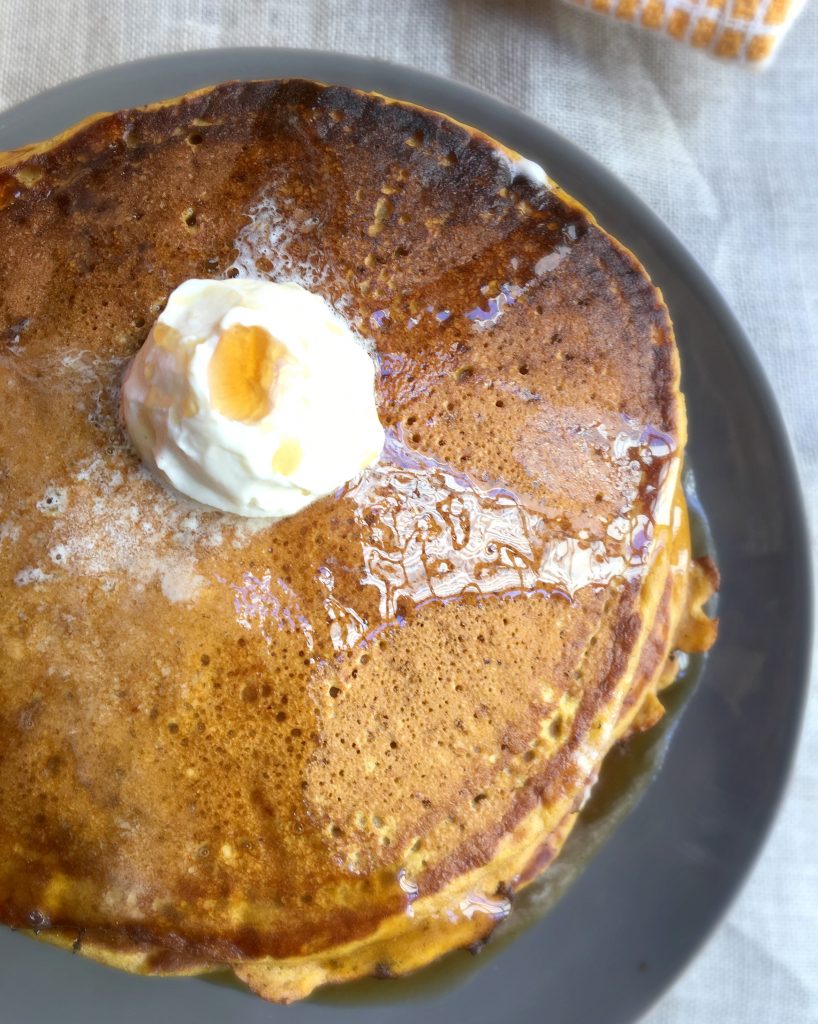 My boys are definitely the catalyst for finally developing this Pumpkin Spice Pancake recipe.  They make me especially nostalgic (which isn't very hard to do) and bring a new light to the traditions and experiences that my husband and I grew up with.  Starting our own traditions of pancake breakfasts on the weekends and pumpkin pancakes in the fall is so much fun, and they are already into it.  So much so that our oldest lists off what he wants for breakfast as we are putting him to bed almost every night.  His list now includes pumpkin pancakes.  Sigh.
Admittedly, it's been a long time since I've had a pumpkin pancake at Parker's, so I'm not sure what the side by side would be, but these Pumpkin Spice Pancakes are delicious, simple to make, and will have you wanting fall to last just a little bit longer.  Smother them with salted butter and pure maple syrup, and hello breakfast.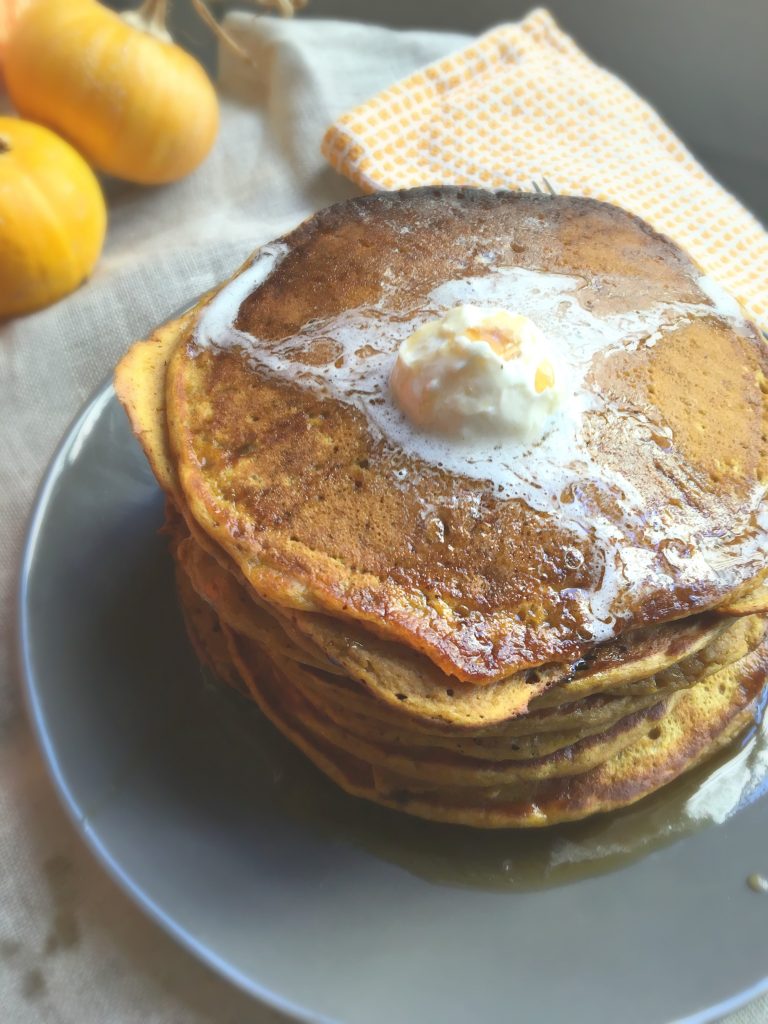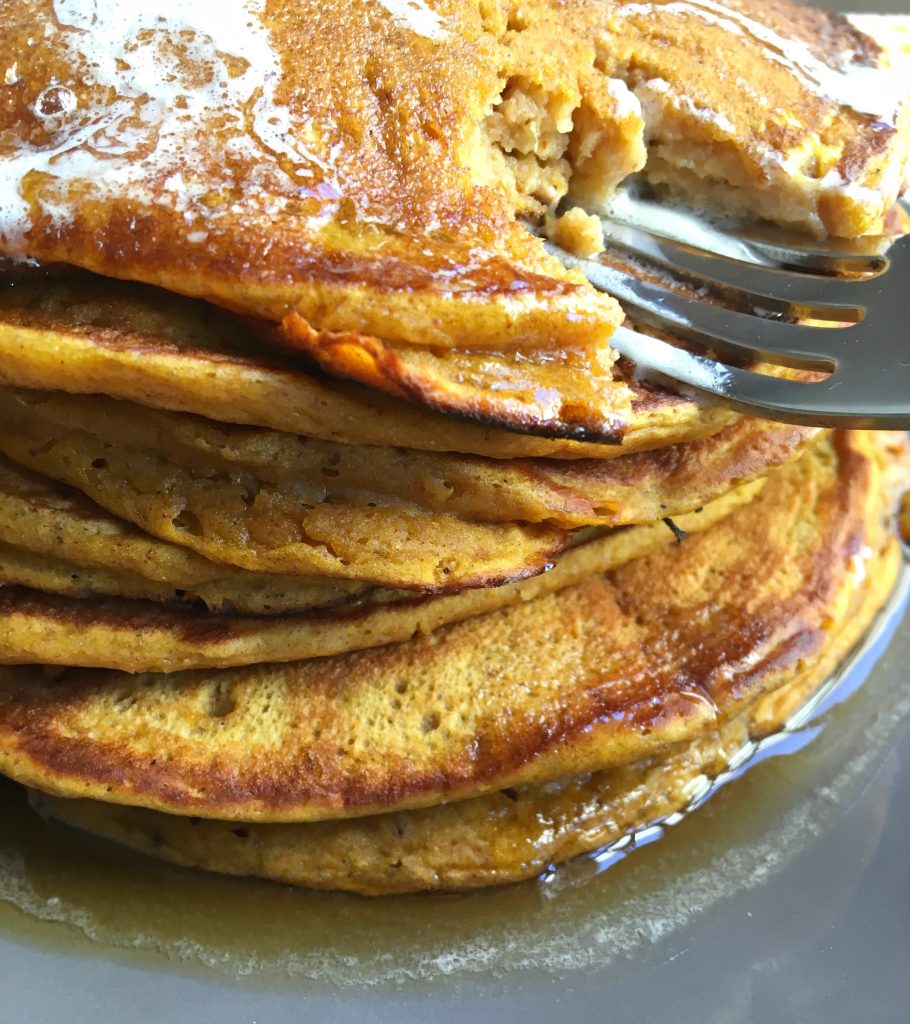 Print
Pumpkin Spice Pancakes
These Pumpkin Spice Pancakes are the perfect way to welcome a fall weekend.  Pumpkin and subtle spices pair well with your morning latte!
Author:

Emily Day

Prep Time:

10 minutes

Cook Time:

6 minutes per batch

Total Time:

30-45 minutes

Yield:

about 8-10 5" pancakes

Category:

Breakfast
Ingredients
1 1/2 cup buttermilk
2 eggs
3/4 cup canned pumpkin puree
1/4 cup unsalted butter, melted
1 tsp pure vanilla extract
1/4 cup light brown sugar
1 1/4 cup all purpose flour
1.5 tsp ground cinnamon
3/4 tsp ground ginger
1/2 tsp ground nutmeg
1/8 tsp ground cloves
1 tsp baking powder
1/2 tsp baking soda
1 tsp kosher salt
Instructions
Heat a seasoned cast iron skillet on low heat while preparing the pancake batter.
Whisk the wet ingredients (buttermilk through sugar) together in a bowl.  Stir the dry ingredients together in a small bowl and then whisk into the wet ingredients until combined.
Scoop batter onto the pre-heated skillet (depending on the size you are going for – I used about 1/2 cup per pancake which translated 5″ round cakes). Cook for about 3 minutes on each side.  Adjust the stovetop temperature lower if the pancake starts to burn in the 3 minutes.
Serve warm with salted butter and maple syrup.
Notes
Don't buy buttermilk just for this recipe.  If you have white vinegar or lemon juice at home, put 1 tablespoon in a 1 cup measuring cup.  Fill the rest with milk (whole if you have it).  Let it sit for a few minutes before adding to wet ingredients.  Repeat for the additional 1/2 cup of milk (and 1/2T of vinegar).
I can fit two, approximately 5 inch, pancakes at a time in my cast iron skillet, so it takes about 30 minutes to get through all of the batter. If you have a bigger pan or an electric skillet, it will be faster!
I don't have to grease my seasoned cast iron skillet because of the butter in the batter.  If you are using a different kind of pan, test a small pancake to check if they stick.  Use a little butter in the pan if they do.
Do use a timer or watch the clock for each side as cooking.  They can appear to be done, but will be wet in the middle if you rush the 3 minutes per side.
I like picking a pumpkin puree (like Libby) and sticking with it because pumpkin purees vary a lot and will affect your recipes with varying textures and liquid content.  While it doesn't matter so much for these resilient pancakes, it does for other more precise baking recipes.
Make extra pancakes for an additional weekday breakfast.  Just refrigerate them in an airtight container after they have cooled.  They will hold for three days and can be easily warmed in a microwave (start with 20 seconds per cake, flip and repeat if needed).
We used organic flour, butter, sugar, eggs, and milk at the bakery which I also try to do at home.  Great ingredients make for great goodies!
Happy breakfasting!  If you make these Pumpkin Spice Pancakes, share the photos with the tag #flourandco! Seeing your results is so much fun!

---
Also published on Medium.