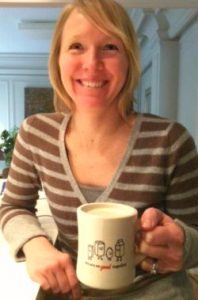 Hi.  I'm Emily Day.  Four years ago I decided to embark on a sweet life journey, and I opened my own bakery, Flour & Co, in lower Nob Hill of San Francisco.  Baking, bakeries, and eating baked goods have a way with me, and I had to share that with my neighborhood.
I'm not fancy.  Give me a delicious blueberry muffin or chocolate chip cookie and I haven't a problem in my world.  The problem is that it's hard to find a really good muffin or cookie – even in San Francisco.  So, my mission was to bring a modern twist to classic American baked goods using organic, all natural, and seasonal ingredients.  Plus, create a place where folks could come together, have a conversation, read a book, people-watch, or just EAT baked goods…all while being greeted by name.  And, I wanted to accomplish this while doing our part to help the community around us.
Fast forward four years (2017) and I can say mission accomplished.  I'm proud of Flour & Co and everything that it stands for.  We made a mark on our little SF neighborhood.  I met so many wonderful people.  I learned so many invaluable lessons.  I ate so many baked goods (and miss them dearly).  It was a good four years…really good.  And so difficult.
Yep, owning a restaurant is some of the hardest work out there.  I like hard work, but making my business successful came at a cost to everything else.  When your alarm goes off at 4am (on the good days), 7 days per week, and your doors have to open, personal freedom is a scarcity.  With a husband and two babies thrown in the mix (not to mention anything about alone time), having a life outside of the bakery was impossible.  And, I increasingly started to weigh the pros and cons associated with the imbalance.  My family won.  I just couldn't bare missing another day.
So, here I am.  Former brick and mortar bakery owner.  Former workaholic.  Former absentee parent and spouse.

Presently, living in the moment, enjoying the simple things in life with a fresh set of lenses.  My next chapter is just getting started.  I'm not sure where it will take me, but I'm looking forward to finding out.  Blogging is my first step, so thanks for joining me on my new journey.
~ Emily