The ONE secret to a successful bakery business?  Sound cliche?  Perhaps, but while there were many factors that contributed to our overall success at Flour & Co, there was only one thing that really mattered. Without it, success would have looked smaller or maybe wouldn't have even registered on the meter.  It's so universally important, in fact, that I believe (almost) every business would slide up on the success meter if they'd elevate this one thing to the top.
The secret is best told through the lens of Flour & Co, three days before Thanksgiving of 2015.  The emotional roller coaster of a major holiday was in full throttle. Thanksgiving marked our biggest production week of the year by hundreds-fold.  One minute we were elated by record breaking pie orders or by getting 'best pie in the bay area' by a local magazine.  The next minute we were folding under the pressure of having to do so much in such little space and time, and fearful that we'd make a mistake that would cost us everything.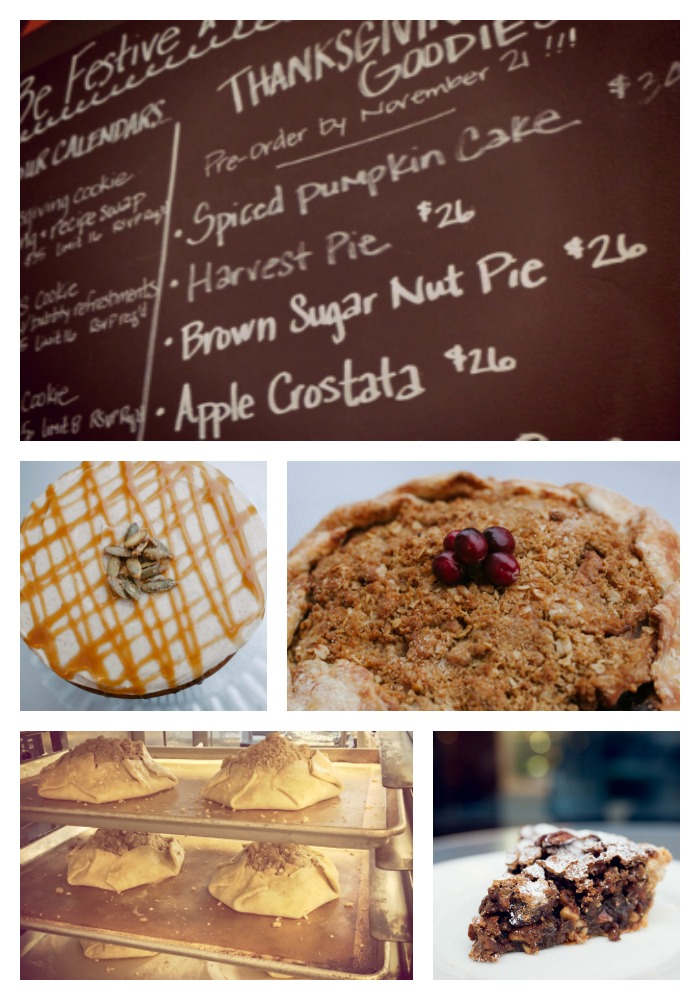 Adding fuel to the fire, we had opened our second Flour & Co retail location with a new production kitchen (where all of these pies would be baked) just six weeks prior.  We were barely rolling off of the craziness of a new opening.  Our team was green (really green), the kitchen manager hadn't been through a holiday with us before, and we had to bake the pies plus package and deliver them to our city location for pick up at peak freshness.
On this particular afternoon, I finally pried myself off of the retail floor of our new location to check in with the kitchen team, only to find the kitchen manager by herself, knee deep in pie preparations.  My first reaction was surprise, followed by confusion, followed by anger.  The climax to the year's biggest production week was right around the corner, and the team had gone home.  Why did the team leave when there was still so much to do and how were we going to pull this off?  I jumped in to help.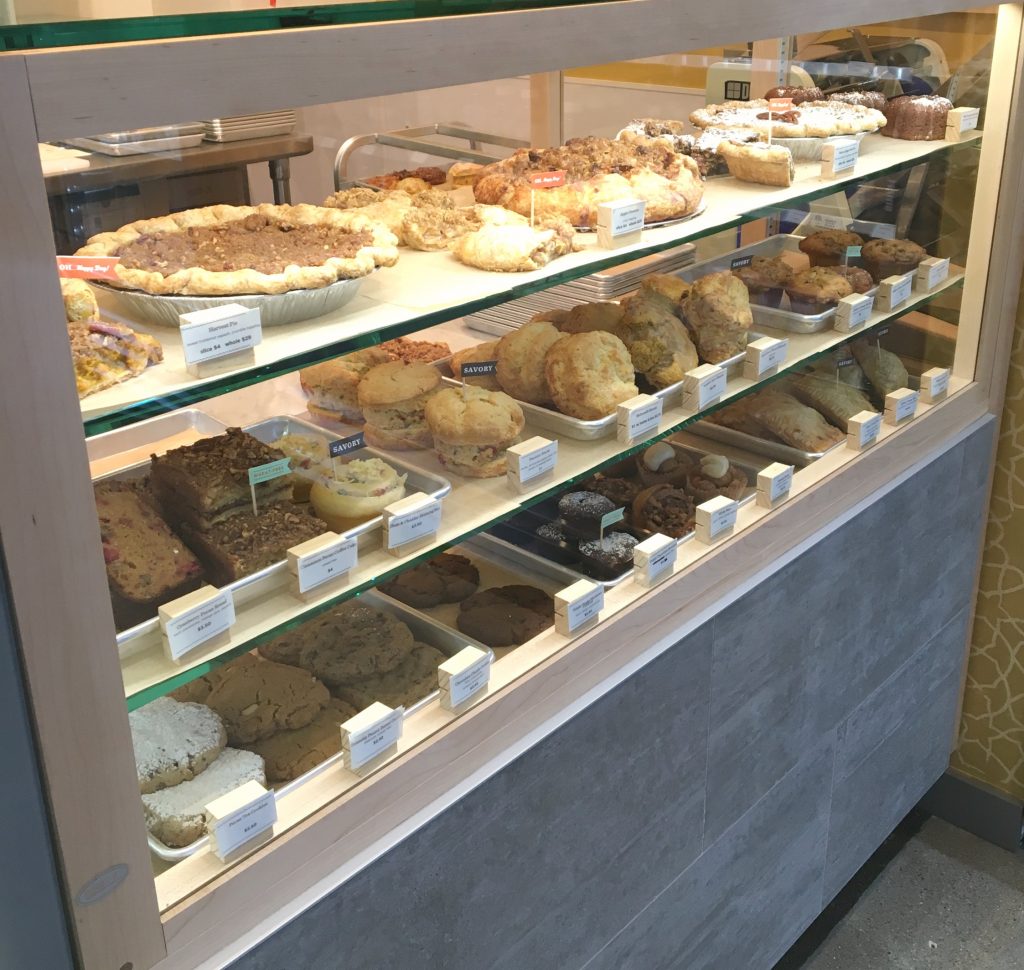 While the answers to these questions were important (and we did successfully bake and deliver our pies on time), there was a much bigger issue at hand.  We could have it all — be in the prime location, have a 4.5 yelp rating, take the most pie orders, purchase the highest quality ingredients, bake the best pies, and have our logistics plan locked down.  These are all of the ingredients of a successful business.
However, none of it mattered, not one bit, if we didn't have People.  I'm not talking bodies.  We had to have good, happy, engaged People.  This was the secret to our success.
I know — this doesn't sound like a success story, and it was a low point to be sure, but our overall company culture was strong and was built on the fundamental value that People are the most important asset and need to be treated as such.  In this (true) example, this core value had been compromised and it played out in a big way at a critical time.  But because I lived and breathed this value day in and day out, we were able to get through it, and I was able to fairly quickly coach and make changes to realign the team.  What would happen to a business that doesn't value People in this same way?

At Flour & Co, valuing People on top didn't stop with the internal team.  It was equal parts team, guests, vendors, neighbors, community.  It was of the magnitude, We the People.
What does this look like in the day to day?  At its core, it's creating a culture with this value at the base.  It's treating people, no matter what side of the counter, with hospitality, kindness, and respect.  It's investing in the nurturing of these relationships, understanding that it's a two way street, a give and take. Perhaps, most important, it's being genuine.
Of course, you have to hire the right people, train to this core, continually coach, and give feedback.  You also have to hold people accountable, have tough conversations, and make changes when this value is compromised.  No exceptions.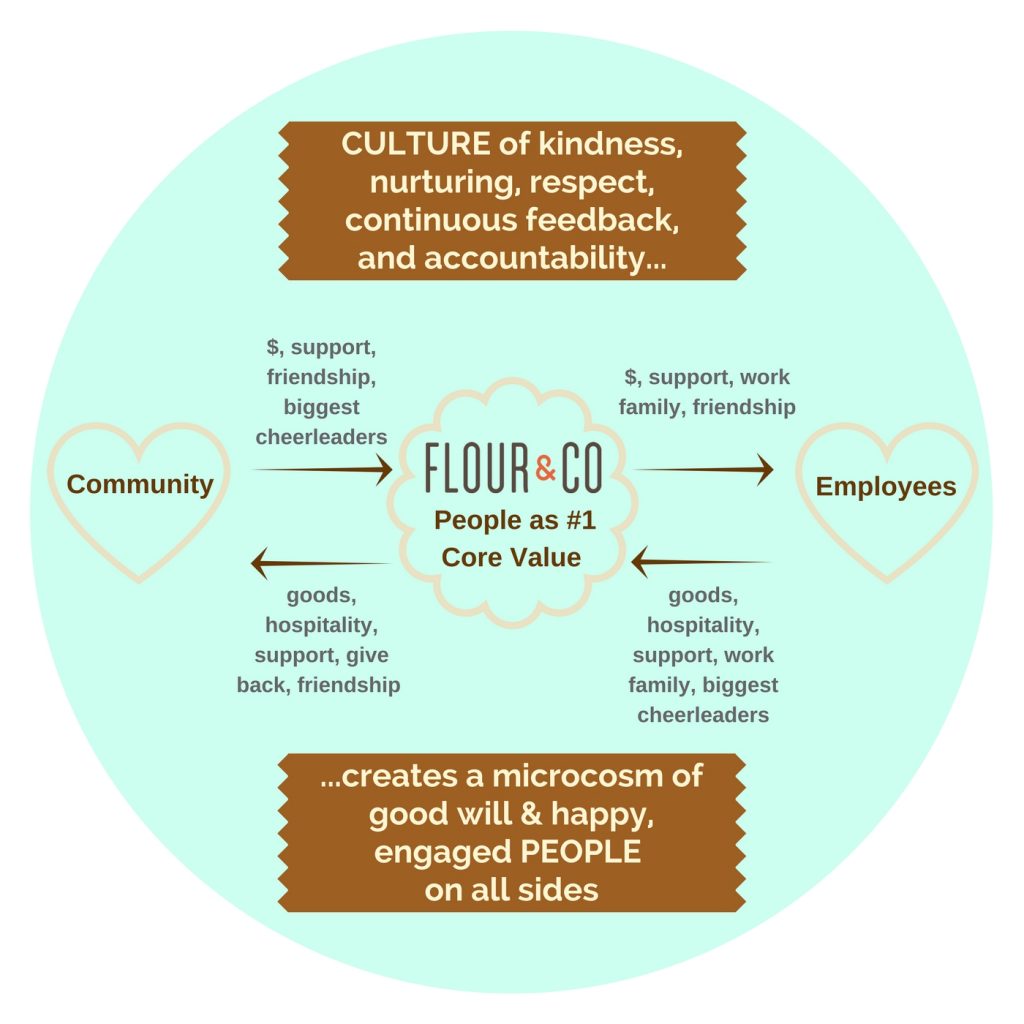 We all make mistakes.  Let me remind you of the bullseye that ambushed the equilibrium of this perfectly symmetrical diagram on Thanksgiving 2015.  Even with the best intentions, this concept requires continuous guarding, learning, teaching, recalibrating, and constant tugging to the foreground.  Hello: this is important.
But what is for sure?  It feels right.  People are worth it, and you'll have a bunch of good, happy, and engaged People cheering you and your business on.  You'll be cheering them on too.
Is your success hindered by the absence or misplacement of this core value?  If you answer no, we can pat ourselves on the back for having our values in check, as well as use this as a reminder to check in on the People.  If you answer yes, here are some steps to start pushing People to the top.
Believe in the power of People and commit (yourself) to this shift – if you don't live and breathe it, no one will
Communicate the need for the shift and your commitment to it
Get the People involved in contributing to what this value shift means to your business and how that looks within your organization
Share the final framework and game plan
Get buy in within all positions and levels
Make changes for those who don't agree with the shift – could be further understanding their point of view, coaching, or replacing these individuals
Implement the plan with the help of the team
Check in regularly, track progress, adjustments, and wins (celebrate)
Anchor this value shift retroactively to onboarding, trainings, and daily operations.  This is your company culture.
Enjoy the power of the People >> gain cheerleaders and become one yourself
Make People part of your daily conversation…x infinity.