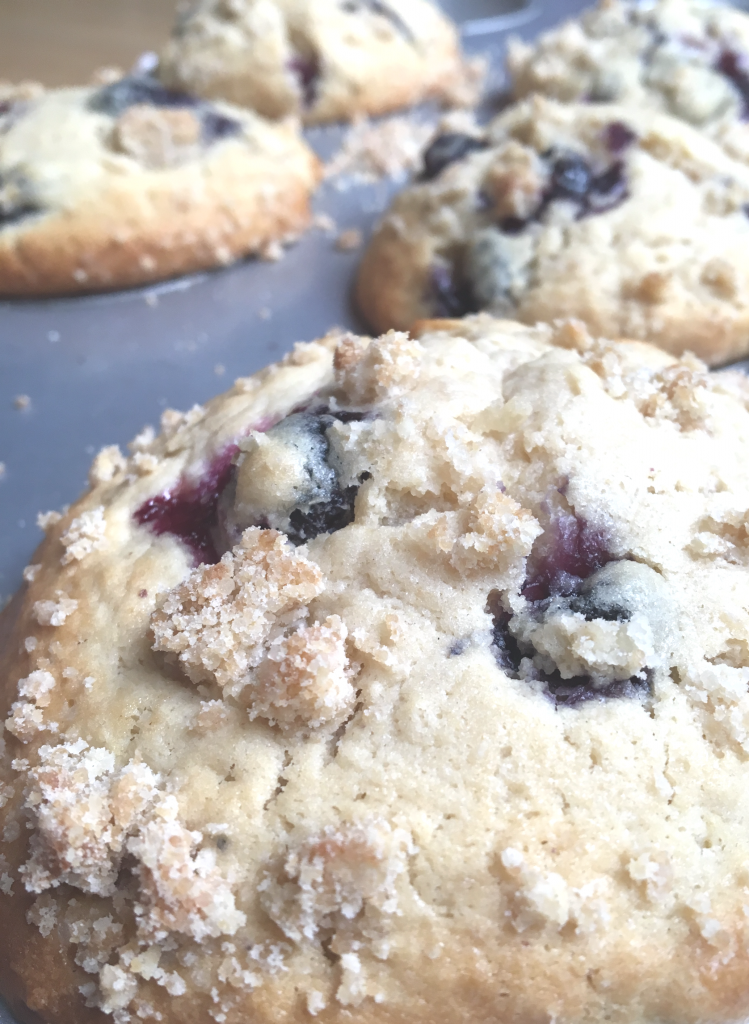 Oh — I love this muffin.  We'd bake a version of it all year long at the bakery, switching the fruit up with the season, but the summer Blueberry Crumble Muffin was – and still is – the ultimate crowd pleaser…and me pleaser!  It's super moist with a touch of citrus, fresh blueberries, and a double dose of streusel crumble.
I have an appreciation for all baked goods, but put a croissant and a muffin in front of me in a bakery case and I'll pick a muffin 100% of the time.  Not to give the French a bad rap.  It's just that a muffin, in my opinion, is more flavorful, more filling, less greasy (er, buttery), and, let's face it, more delicious.  Hugs to my French baker friends out there.
My muffin bias goes way back.  Being a Minnesotan might have a little something to do with it.  In high school, my best friends and I would often end up at our local Perkins (linking for full effect) for entertainment and snack.  Yep, our parents didn't have a lot to worry about.
As you might have guessed, it wasn't about the food.  It was about the ritual, first and foremost, and the simple appreciation of time with friends.  I'm guessing Perkins lands in that category for almost everyone.  Rituals are how we connect (with ourselves and other people) and connection is warm, cozy, and quite possibly addictive.
Also addictive (at least at age 16) was their Blueberry Muffin.  Ok — it was a little about the food.  When I developed this recipe for Flour & Co, the Perkins Mammoth Blueberry Muffin was my muse.  They did it up right…served warm with butter.  I'm more about eating everything in moderation these days, so mammoth muffin cups didn't make the cut, but this is still my preferred preparation for eating a muffin.
Side note: Much of my recipe development, like this blueberry muffin, is based on a memory around a particular goodie, and how I remember it tasting – oh so good.  My palate has matured and I'm more discerning now, but I can still "taste" it in my head, and I work to replicate it.  In general terms, I replicate how I think the perfect _fill in the blank_ should taste based on my memories.  Whether the memories and the finished recipe actually taste alike is unlikely.  What is absolute is that, in my mind, it's the perfect representation.
Aaannnnd…on the opposite end of that spectrum, here's something that's not perfect!  I decided to try my hand at videography which is alarming on all accounts.  My inexperience and lack of patience has produced this rough rendition of baking these Perfect Blueberry Crumble Muffins.  But, I'm posting anyway.  Cringe.  Even this embarrassing video took a lot of time, so I must share the unripe fruits of my labor.  The best motivation for improvement: you viewing this.  Cringe again.
Now erase what you just saw from your memory…and…
…back to perfection (aka the muffin).  I'm bringing you this FIRST recipe as the perfect representation of a blueberry muffin.  It was one of the best sellers at Flour & Co, and because this muffin deserves the sweet blueberries that summer has to offer, it's time to bake them now.  News alert!!  Summer is almost over.
Get blueberries on your shopping list and get baking!  I plan to eat at least one…or five more before blueberries are flown in from ___?___.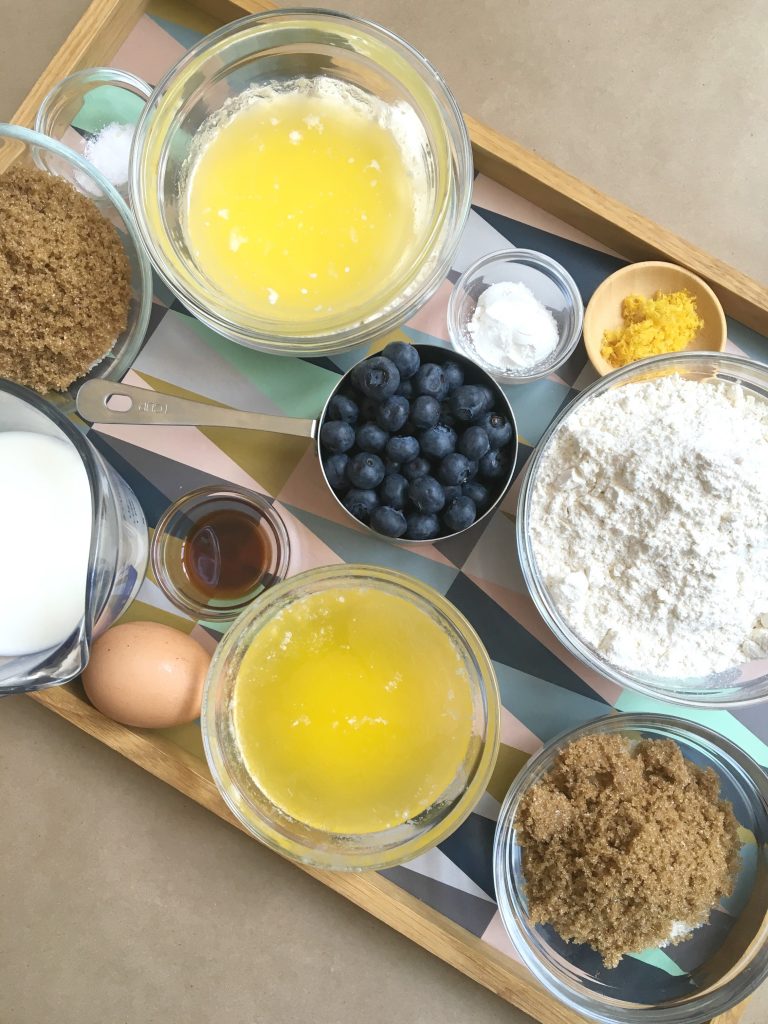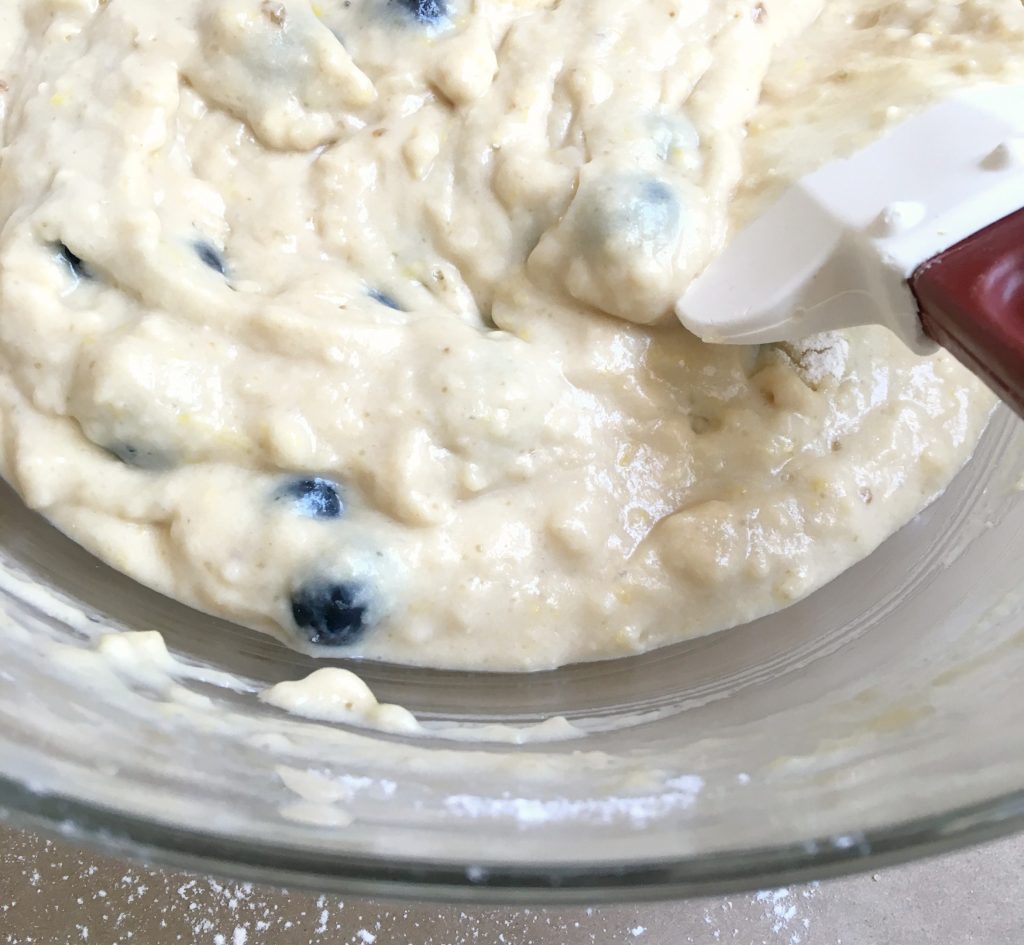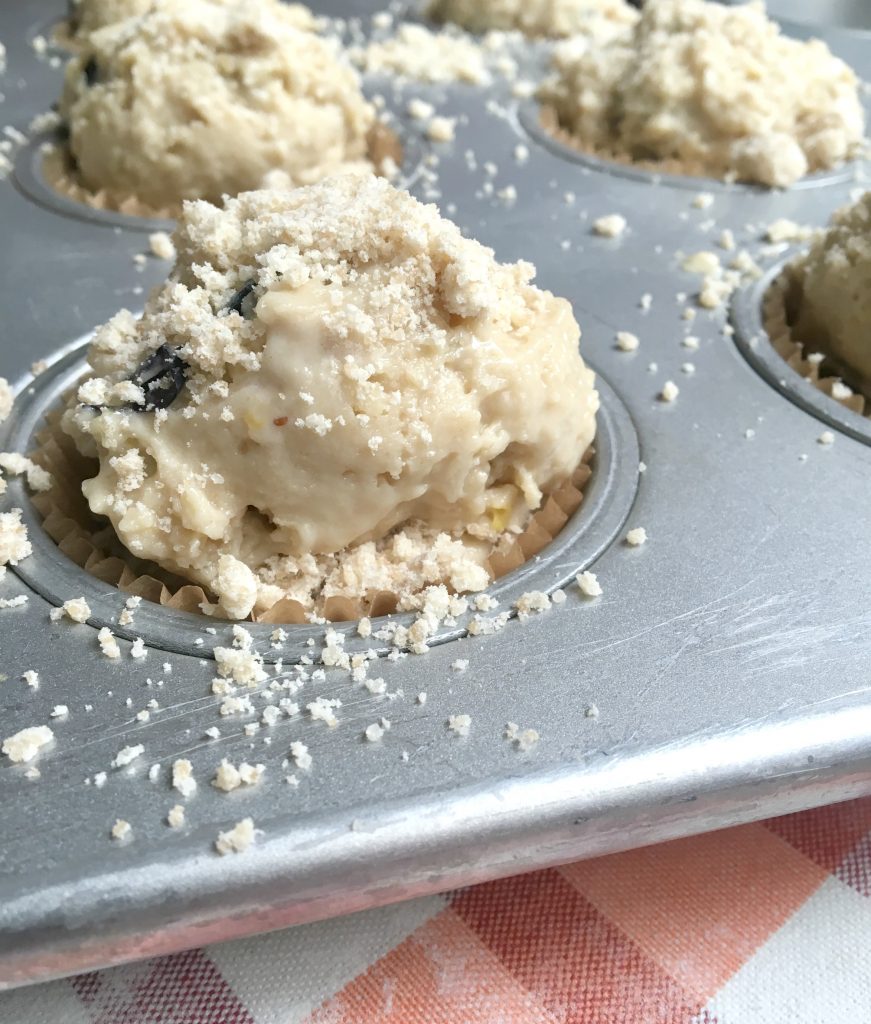 Print
The Perfect Blueberry Crumble Muffin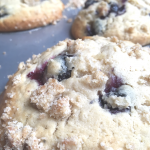 Oh — I love this muffin.  Blueberry muffins are my all time favorite, but this one is a standout and a bakery best seller.  It's super moist with a touch of citrus, fresh blueberries, and double streusel crumble.
Author:
Prep Time:

15 min

Cook Time:

20 min

Total Time:

35 minutes

Yield:

10 muffins

Category:

Quick bread & Muffins
Ingredients
Streusel Ingredients:
1.5T (.667 ounces) granulated sugar
1.5T (.667 ounces) light brown sugar
1/8 tsp kosher salt
1/3 cup (1.75 ounces) all purpose flour
2.5T (1.25 ounces) unsalted butter, melted
Muffin Dry Ingredients:
2 cups (8 ounces) all purpose flour
2 tsp baking powder
1 tsp kosher salt
Muffin Wet Ingredients:
1/2 cup (4 ounces) unsalted butter, melted
1/4 cup (2 ounces) granulated sugar
1/4 cup (2 ounces) light brown sugar
1 egg (2 ounces)
1 tsp pure vanilla extract
1 tsp lemon zest
1 cup (8 ounces) buttermilk
1 cup fresh or frozen blueberries
Instructions
Preheat the oven to 375 degrees.
Grease or line 10 cups of a standard muffin tin.  Set aside.
For streusel:
In a bowl, mix together everything except butter until combined.  Add the melted butter and mix with spoon or hands until it's incorporated and crumbly.  Set aside.
For the muffins:
In a small bowl, combine the dry ingredients.  Set aside.
In a large bowl, whisk together the melted butter, granulated sugar, and brown sugar.  Add the egg and vanilla. Whisk. Add the lemon zest and buttermilk.  Whisk.  Sift the dry ingredients into the bowl.  Using a spatula, stir just until the flour has just been incorporated.  Fold in the blueberries.  If using frozen blueberries, fold them in frozen.  Do not over mix.
Fill each muffin cup about half way full with batter (approx 2T).  Sprinkle each cup with a generous 1 tsp of streusel.  On top of the streusel, fill each cup almost to the top with batter (approx 2T).  Sprinkle each cup with an additional generous 1 tsp of streusel.
Bake at 375 (middle rack) for 19-23 minutes or until a toothpick comes out clean.  Ovens vary greatly, so start at 19 minutes and test with a toothpick from there.  Let cool.
Eat warm with butter.  Share…or not.
Notes
I'm a firm believer that baked goods all taste best when fresh.  This batter works great in the refrigerator for up to three days (in an air tight container).  The streusel will hold at room temperature (don't refrigerate), in an air tight container, for up to three days.  So, bake only as many as you want to eat today. Bake more tomorrow.  If following this method, take the batter out 10 minutes before portioning into the muffin cups.  The bake time will likely be 2-4 minutes longer.
I love baking with a scale – a habit from recipe development and the bakery, so I've included weights on many ingredients in case you like doing the same.
Don't buy buttermilk just for this recipe.  If you have white vinegar or lemon juice at home, put 1 tablespoon in a 1 cup measuring cup.  Fill the rest with milk (whole if you have it).  Let it sit for a few minutes before adding to wet ingredients.
I like using pastry flour for this muffin (and it's what we did at the bakery) as it makes for a slightly more delicate crumb, but all purpose flour works just as well (and you have it in your pantry).
If you freeze your fresh blueberries before folding them into the batter, you won't get the bleed that you sometimes get from handling fresh fruit (for example, blue muffins due to the blueberries).  If your blueberries are nice and firm and you gently fold them in, they shouldn't leave your batter blue, and they'll taste great either way.
Portion scoops (aka dishers) are amazing for a clean and consistent muffin cupping.  Use a black #30 scoop (1 ounce) for the batter if you happen to have one (scoop, streusel, scoop, streusel).  More to come soon on this…my must-have baking tools.
We used organic flour, butter, sugar, eggs, and milk at the bakery which I also try to do at home.  Great ingredients make for great baked goods!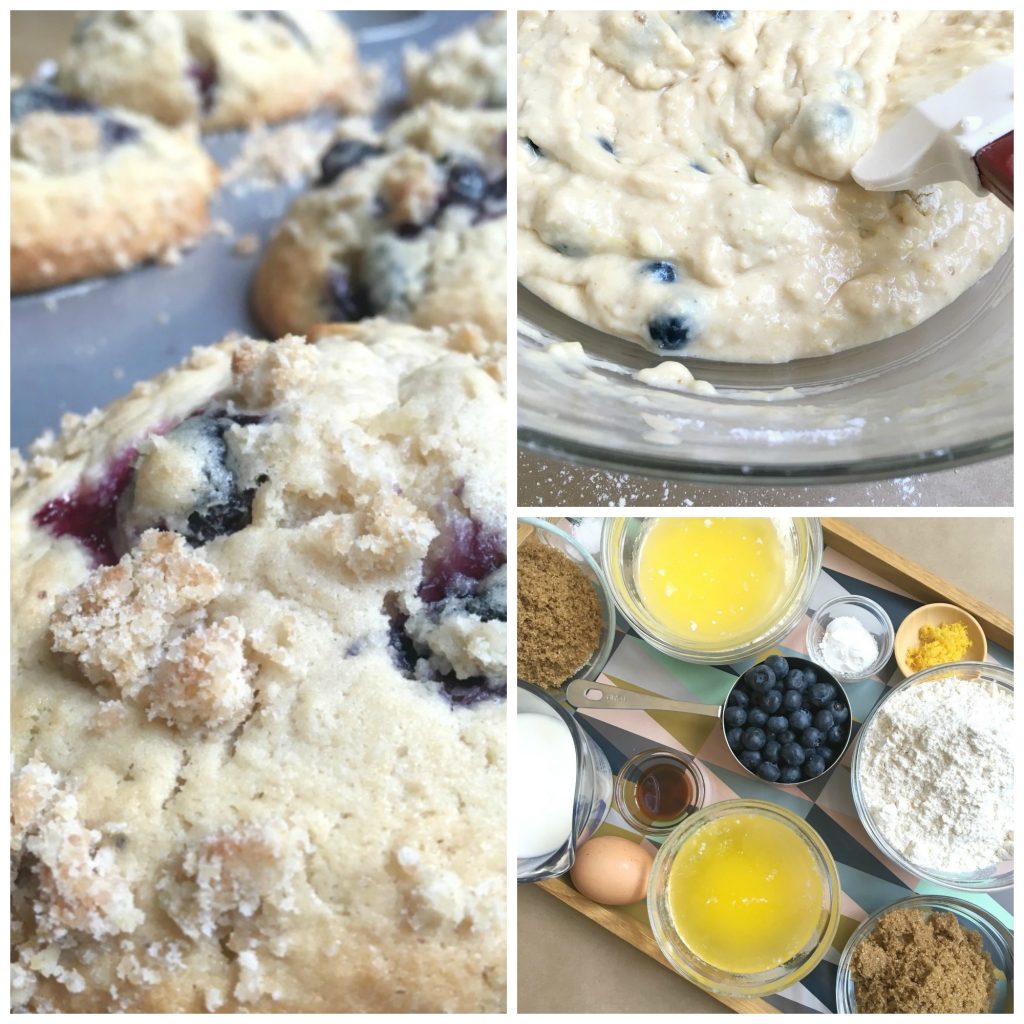 Happy baking!  I'd love to see your creations, so if you bake these, post your photos with the tag #flourandco!

---
Also published on Medium.