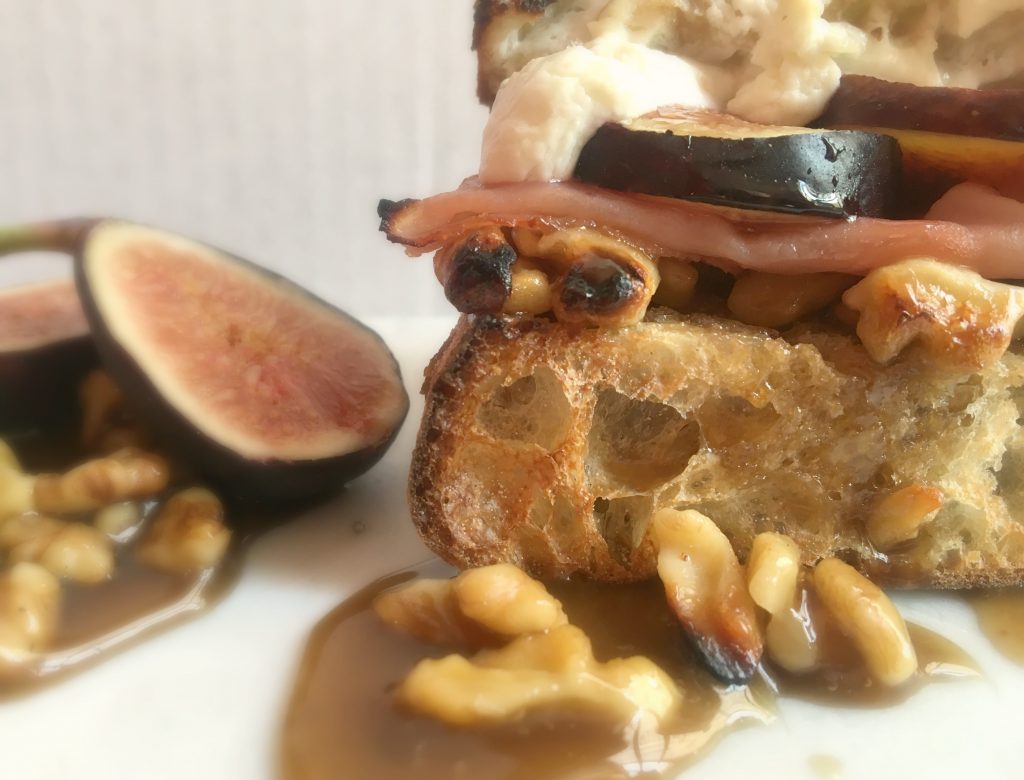 Ok, confession #1:  I'm in love with fresh figs.  Really love them, and wish I would have discovered them way before I did.  Confession #2: I dream of this Ham, Fig, Goat Cheese Sandwich with Honey Walnut Spread all year round, and anticipate the arrival of figs…just for this sandwich.  They are perfect little sweet poppers all on their own, but if you're on the fence with figs, this sandwich will put you on the right side.
I, too, once had figs behind a fence.  Growing up in Minnesota, I never saw a fresh fig, let alone tried one. Figs equalled all things gross: dried figs, fig newtons, and fruitcake-like baked goods.  The grossness of a raisin x10 because there's so much more of it in one bite.
Needless to say, it was years after moving to California that I built up the courage to try one.  I can't remember what or who convinced me, but I thank them.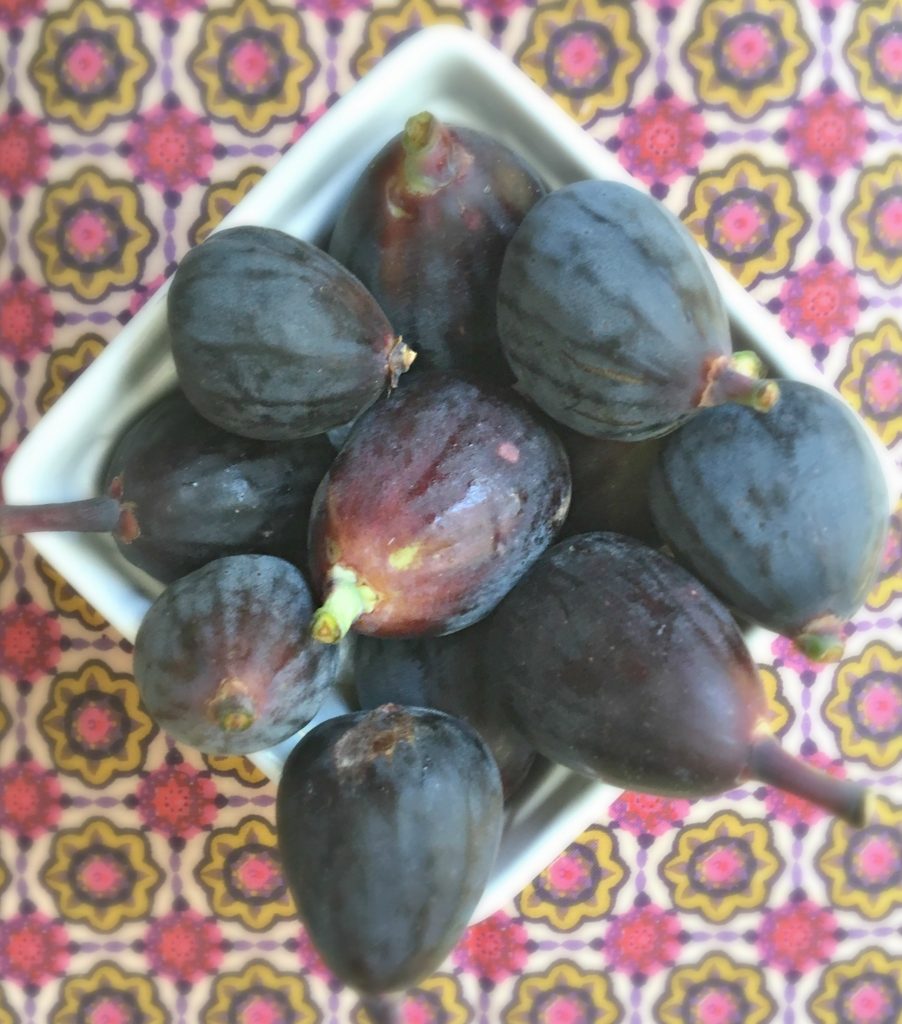 Now, as summer approaches each year, I anxiously await the first spotting of figs in the produce department.  Black mission figs are my favorite as they are reliably soft, sweet, and easy to find. Here's a quick education on figs if you want more.
With late summer to early fall being the height of the season, it's time.  Eat them before the rain of late fall takes them away.  Bonus: this year seems to be the year of figs.  I was pretty excited when I walked into trader joes last week to find a mountain (and I really mean one of the biggest displays of anything I've seen at TJ's) of 2lb black mission fig clamshells at the entrance of the store, and at the bargain price of $5.  I bought one (not sure why I stopped at one).  When I went back two days later to buy more, they were gone.  Sniffle.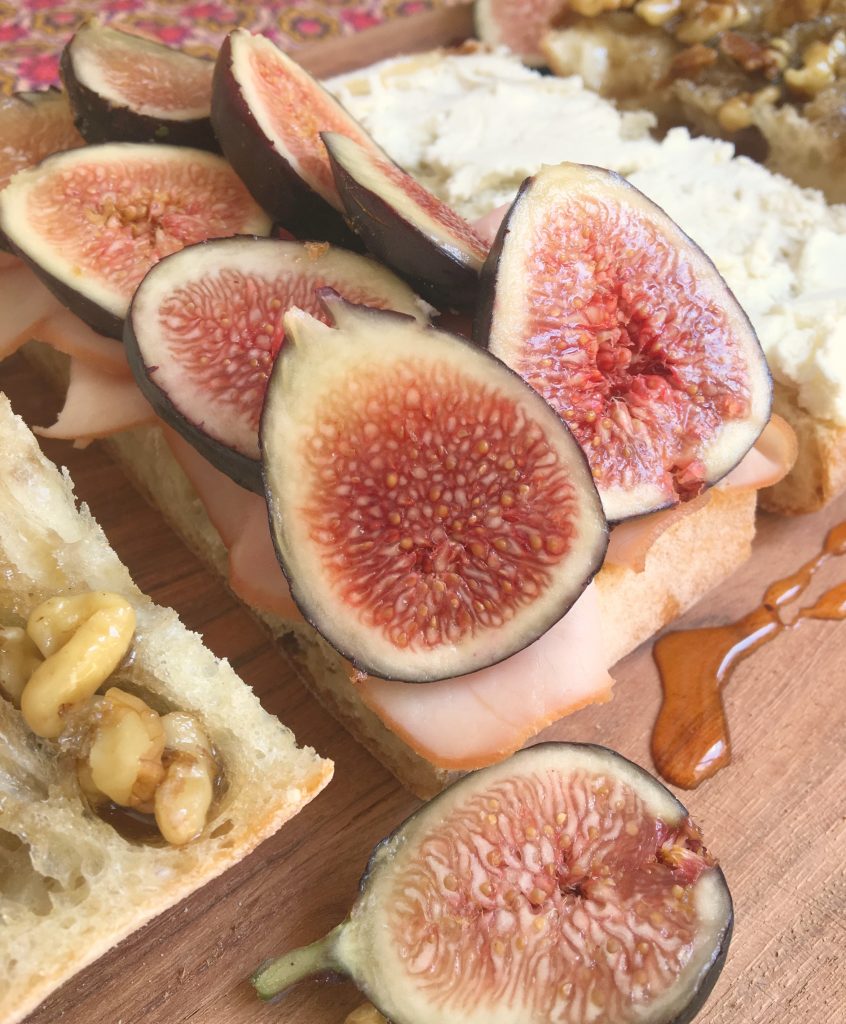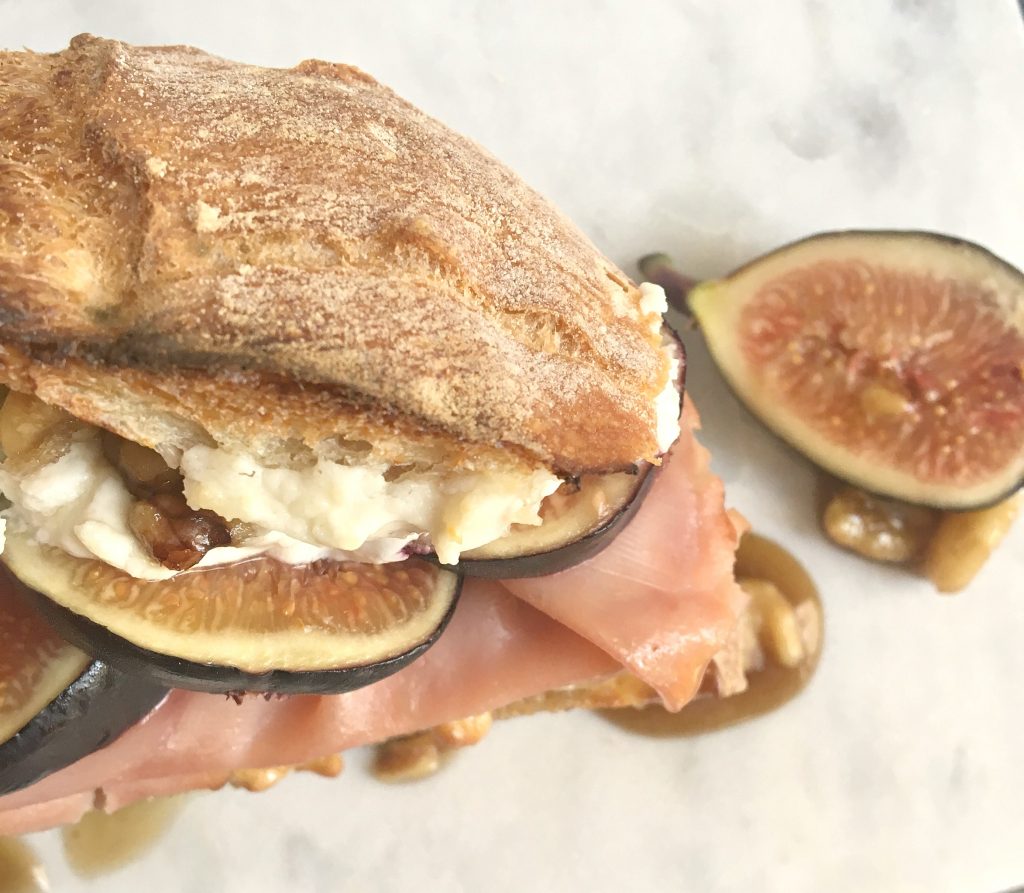 Given my fanatic status, I knew I wanted to include figs on our summer menu at the bakery.  We slid them in a couple ways: a fig, madeira, walnut toasty tart (like a pop tart) which is a subtle ode to these sweet delicacies; and, an amazing grilled cheese sandwich on our cinnamon swirl bread with fig, goat cheese, honey, and lemon.
But, this Ham, Fig, Goat Cheese Sandwich with Honey Walnut Spread tops them all.  It's the perfect savory and sweet mashup that's gourmet on taste, yet the easiest to make.  A couple minutes of prep will land you one of these.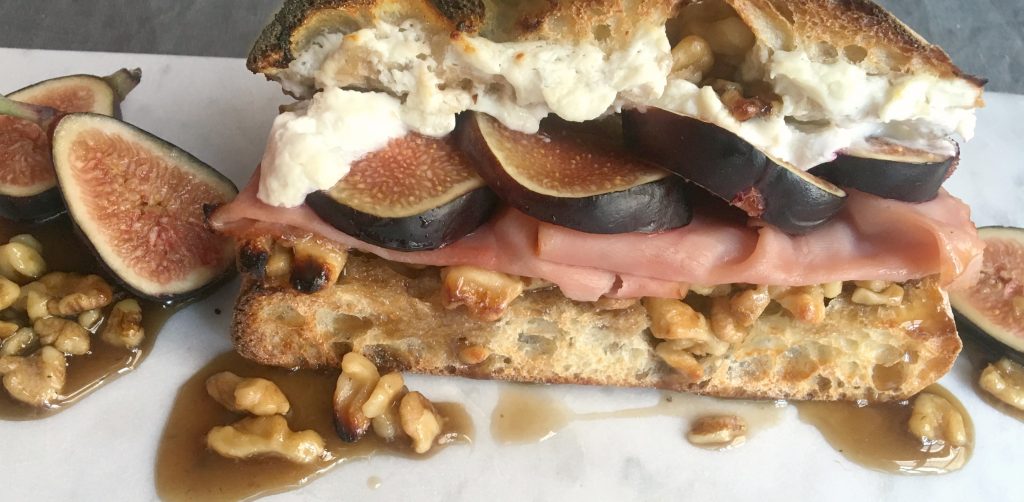 Print
Ham, Fig, Goat Cheese Sandwich with Honey Walnut Spread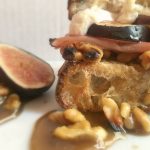 I'm addicted to fresh figs and this sandwich shows them off right.  It's perfectly sweet and savory, all melted together in a toasted masterpiece.  Make it without ham for an equally delicious vegetarian version.
Author:
Prep Time:

10 min

Cook Time:

5 min

Total Time:

15 minutes

Yield:

1 Sandwich

Category:

Sandwich
Ingredients
Honey Walnut Spread (enough for about 4 sandwiches):
1/2 cup chopped walnuts
1/3 cup honey
1T extra virgin olive oil
Sandwich:
3 Fresh Black Mission Figs, Sliced (about 1/4 inch slices)
3T Plain Goat Cheese
2-3T Honey Walnut Spread
2-3 Slices Black forest ham (or a smoked ham) depending on your desired meat to everything else ratio
1/4 Loaf of ciabatta bread (or similar plain, flat bread so the bread doesn't overtake the sandwich)
Instructions
Turn the oven onto broil and place rack near top (place above the middle, but not at the very top)
For the honey walnut spread:
Mix the honey, olive oil and chopped walnuts together until combined.  Set aside.
To assemble the sandwich:
Slice the ciabatta loaf (the bakery loaves that I find at the local market are about a foot long and four to five inches wide) into four horizontal pieces.
Slice each piece (as needed based on the number of sandwiches you are making) in half horizontally
Spread a layer of honey walnut spread on the bottom bread (use as much as needed to cover the bottom bread and to suit your taste – more if you like sweet, less if you don't)
Spread a layer of goat cheese on the top bread
Top the honey walnut spread with the ham using more or less depending on your taste.  Two deli sized slices is usually good for me.
Top the ham with a layer of fig slices (to cover ham)
To finish the sandwich:
Place the sandwich (open faced) on a foil or silicone baking mat lined sheet pan.  Put under the broiler for two minutes or until the ingredients are bubbling slightly.  Close the sandwich and flip so that the bottom is facing up.  Broil for another minute.  Flip right side up and broil for another minute or two.  You want everything to be warm, but not burnt (which is so easy to do so use a timer)!
Remove from oven and enjoy warm.
Notes
I love this sandwich, but it would be a great party hor d'oeuvres in the form of crostini as well.
A thinner bread like ciabatta works really well because it gives the right proportion of bread to filling (not too bready), but an open-faced application would be delicious and pretty.  If open-face, layer bread, honey walnut spread, ham, figs, and finish with crumbled goat cheese on top, toast.
We used Marshall's Farm Honey – bay area blend at the bakery.  It's delicious.
Any plain goat cheese will work, but I love Laura Chenel's original chabis which is mild and easy to spread
We used Diestel ham at Flour & Co and it's my favorite.  Whatever your local option is will work great.  If you can't find black forest, any smoked ham will be great.  Stay away from the honey or maple hams as it will result in a too-sweet sandwich.
Happy sandwich making!  Before you take a bite (or after), share your sammy photo with the tag #flourandco!  xo