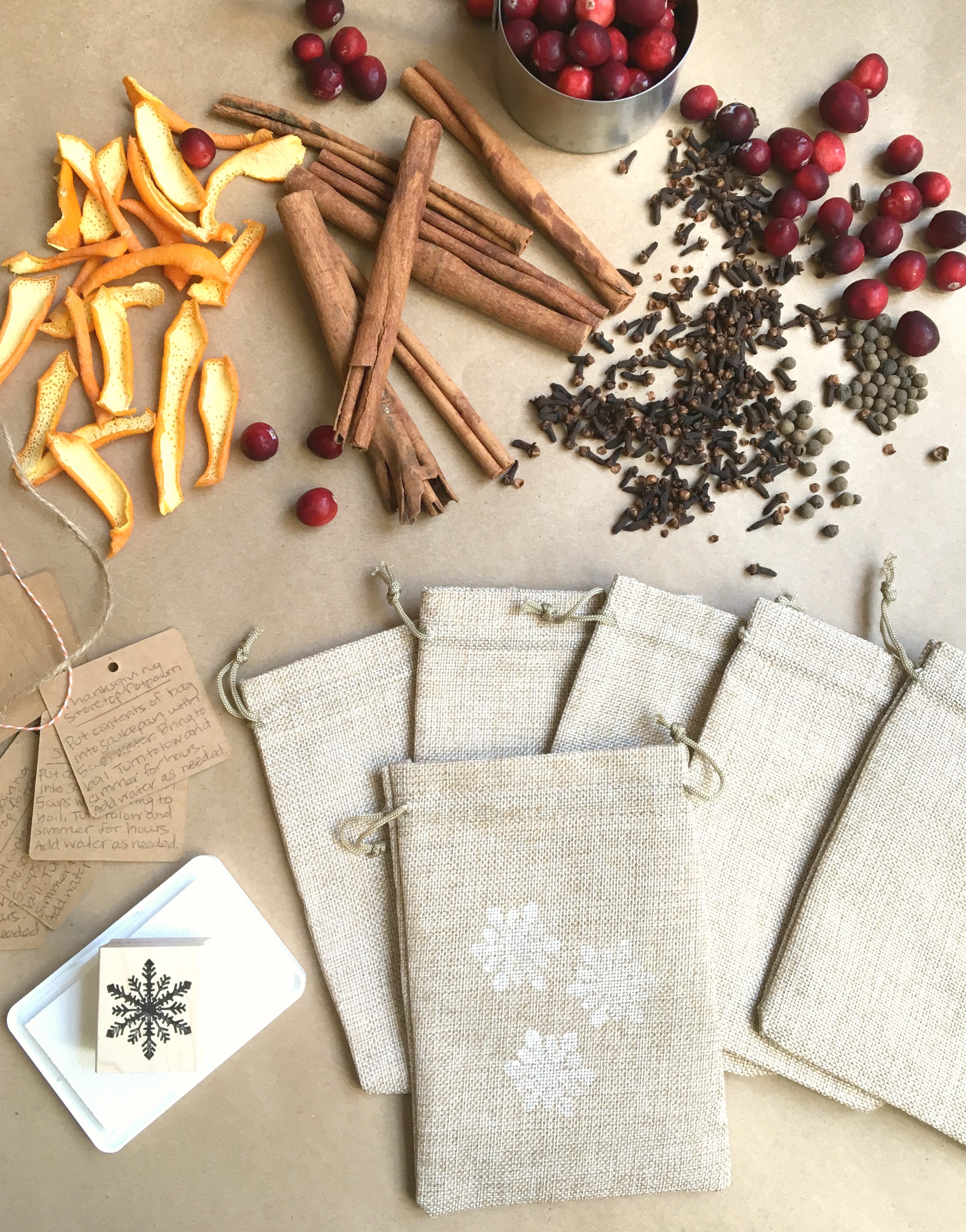 Thanksgiving is one day away and I am ready!  My Christmas movie marathon has started, though I'm only able to fit in about half a movie each night.  I'm binge perusing holiday recipes, drinking way too much hot chocolate and spiced cider, eating more than my fair share of pre-holiday treats, and the fam is already sporting the matching holiday pj's.  Yep, we're-a-ready.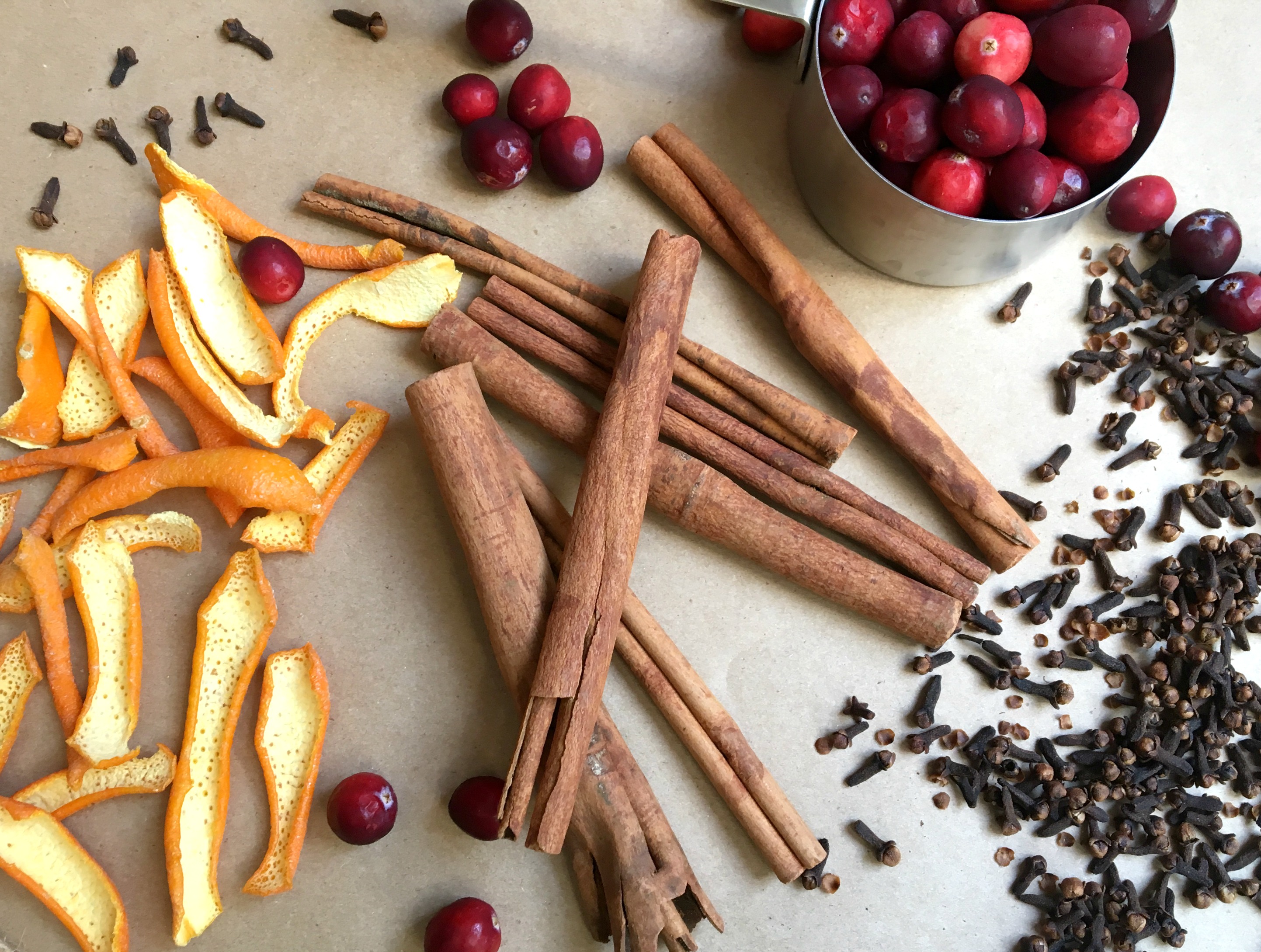 We're, also, ready for a quiet Thanksgiving at home tomorrow.  Recipes chosen, grocery shopping done, prep started, wine chilling, Thanksgiving kids books on rotation…  It's a welcome change from years of working like crazy right up to the night before, or even the day of, and *trying* to unwind on Thanksgiving day.
Anyway, I'm feeling especially thankful this year, and that includes being thankful for you.  A big part of my life for four years was Flour & Co.  I'm grateful to have this creative outlet for keeping it alive in a small way, and sharing it with you.  It's a different kind of connection, but I thank you for your presence and support.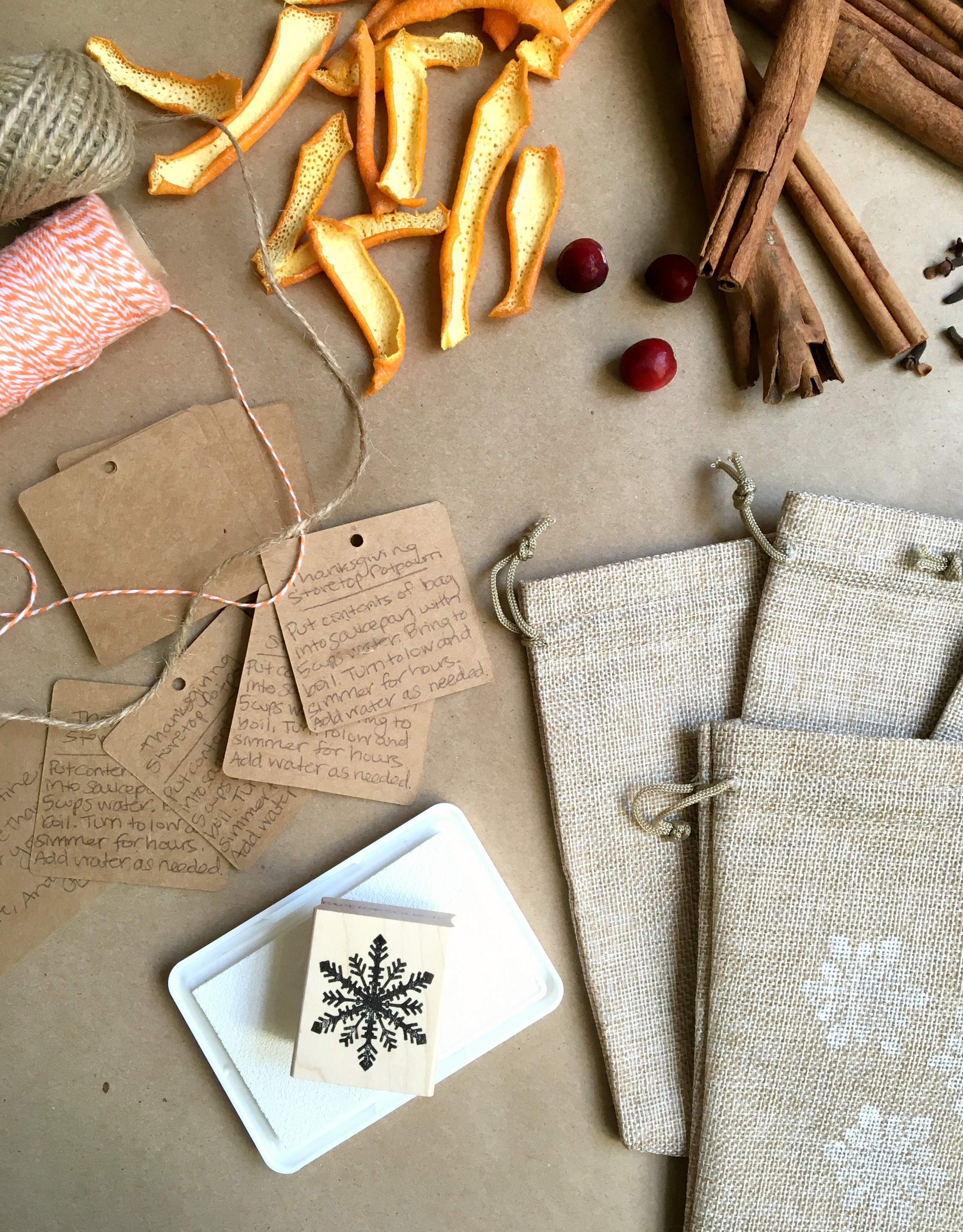 And that brings me, in a very roundabout way, to Simple Holiday Stovetop Potpourri.  I realized a few nights ago that I had hit so many holiday spirit markers, but I was missing an important one.  Smell.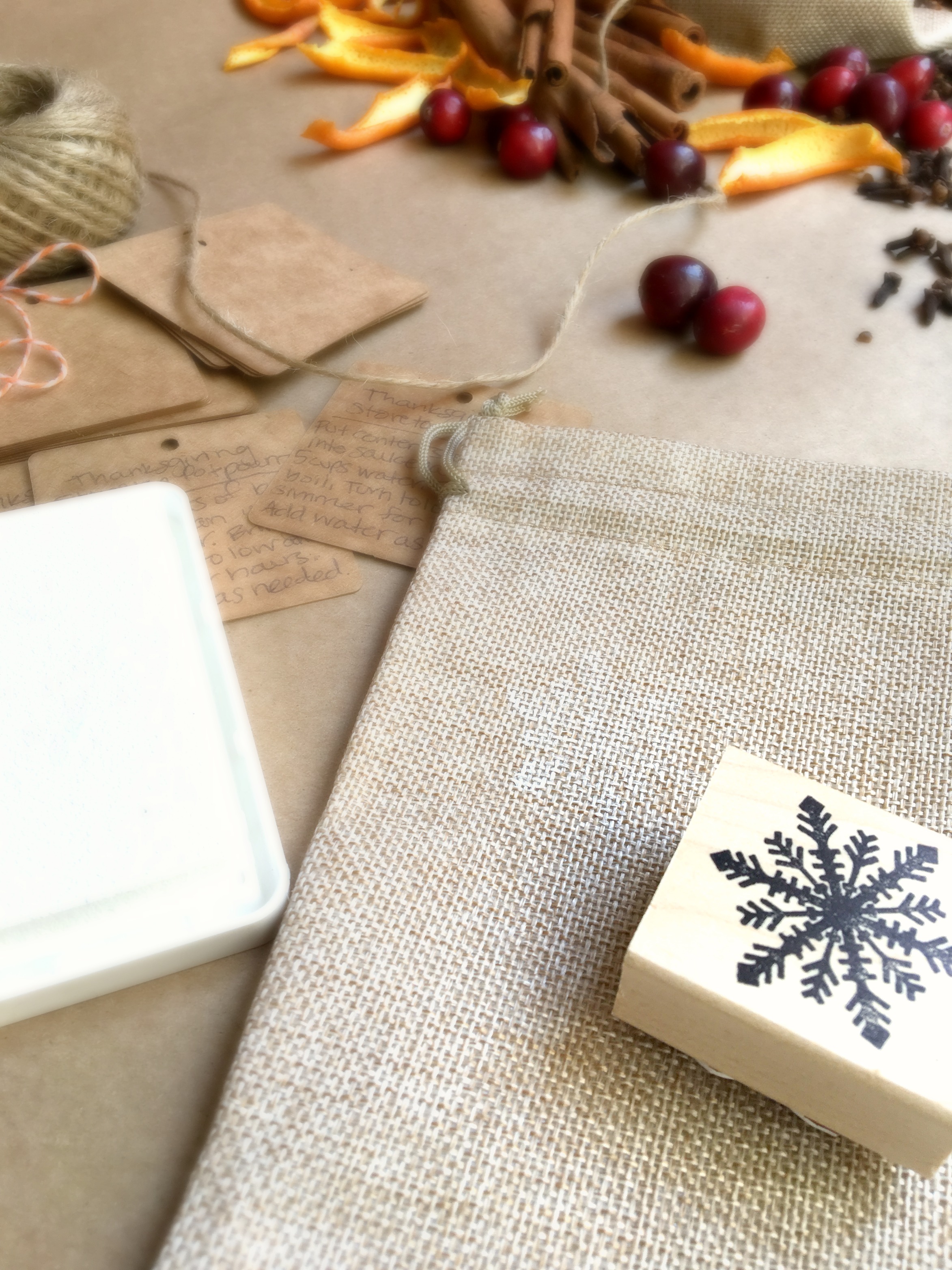 At the same time, I had a flashback to the stovetop potpourris I used to simmer during the season, especially during special days, parties, and Christmas tree decorating.  They take minimal effort with a huge aromatic impact: cinnamon, citrus, spice, pine…and anything else that smells like the holidays.  Plus, they are great little gifts for teachers (we handed ours out today), hosts, friends, and neighbors. They are inexpensive and take little time to put together, but they are full of warmth, thought, and holiday spirit. We put ours together with these cute little bags and tags.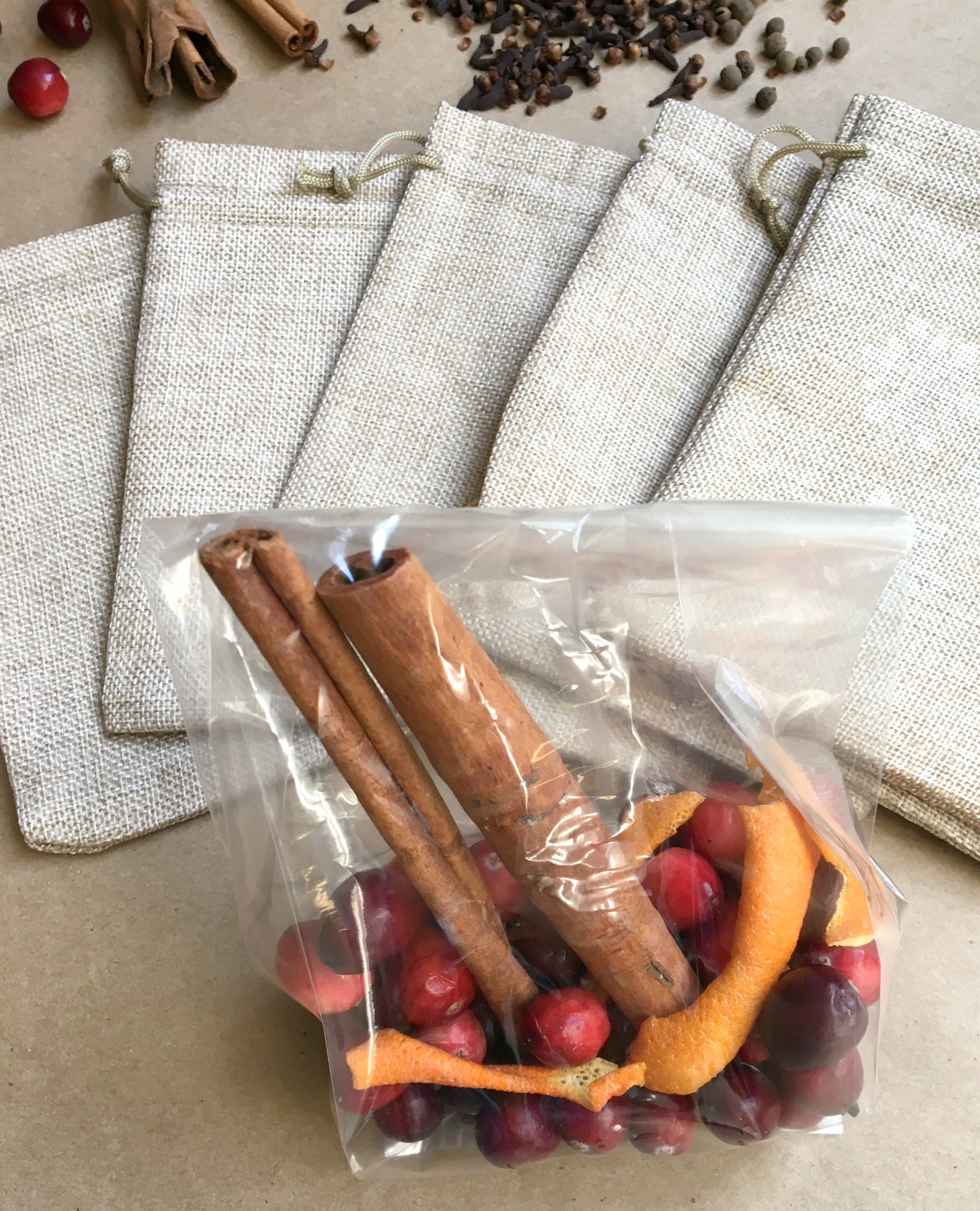 With ingredients that are probably in your pantry (or put your own combo together with what you have), throw it on the stovetop tomorrow morning to start your Thanksgiving off with cinnamon, spice, and everything nice.  It will set the stage for the day's festivities.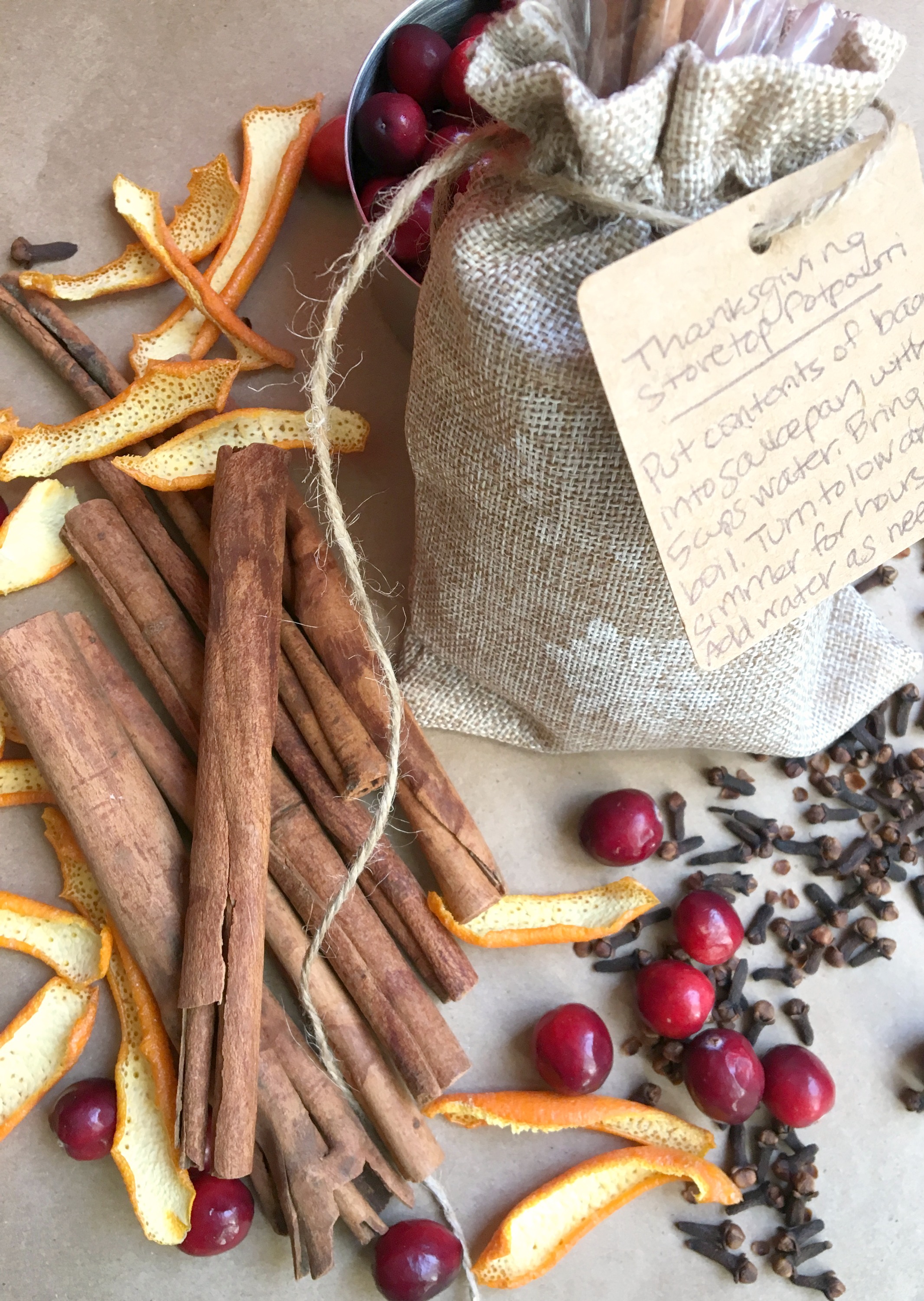 Happy Thanksgiving to you and yours!  May the day bring you many opportunities to give thanks and share special food and moments with loved ones.
xo Emily
ps. If you are behind in your preparations and need some recipe inspiration, check out some ideas here.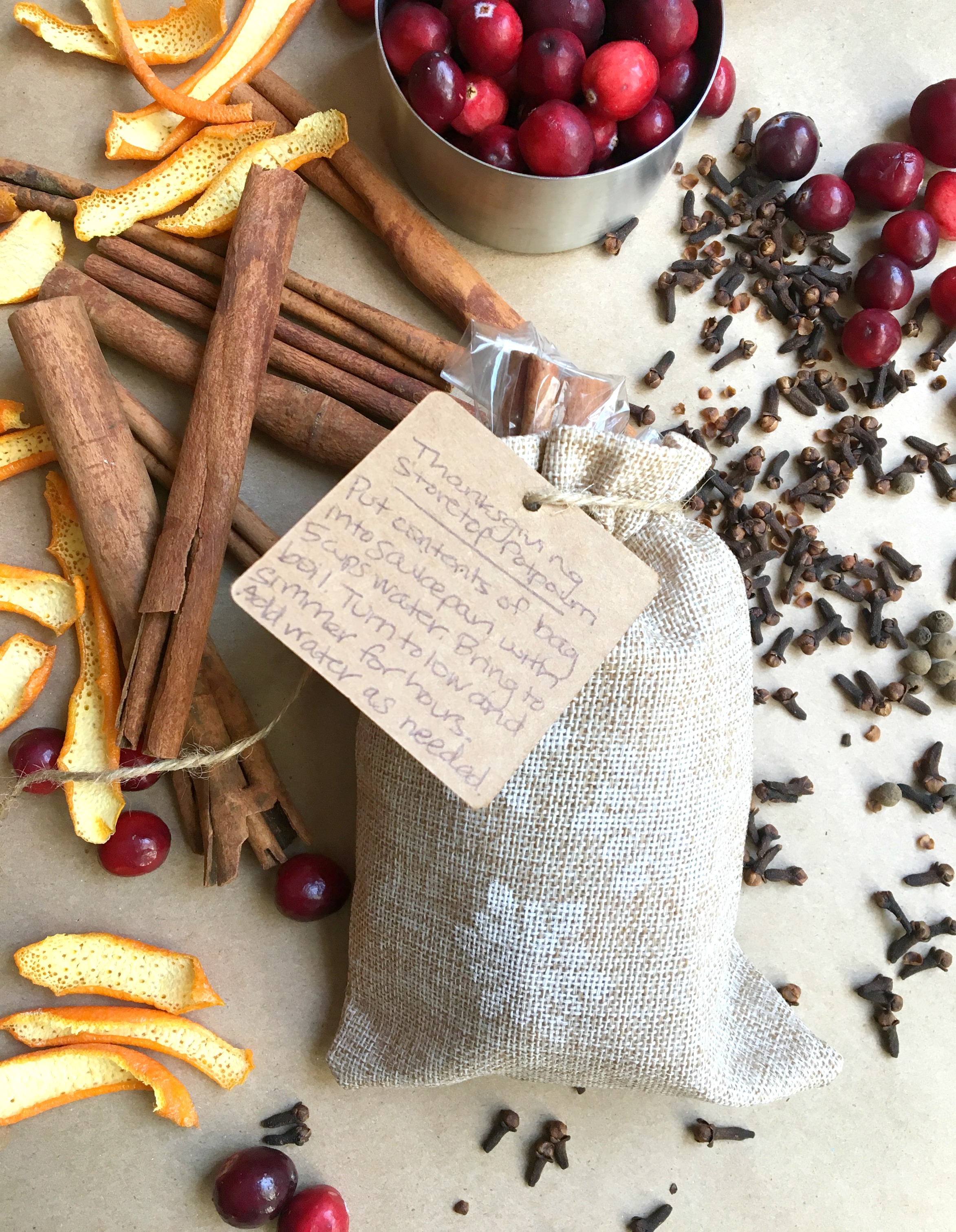 Print
Simple Holiday Stovetop Potpourri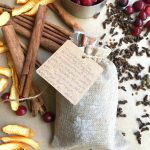 It's so easy, and with all of the ingredients in your kitchen, your home will smell like the holidays with no effort at all!  Plus, bag them up for the cutest hostess or 'thinking of you' gift.  Cinnamon, spice, and everything nice.
Author:

Emily Day

Prep Time:

5 min

Cook Time:

5 hours

Total Time:

5 hours 5 minutes

Yield:

1 holiday smelling home

Category:

Gifts
Ingredients
1 cup fresh cranberries
1T whole cloves
2 cinnamon sticks
4 orange peel strips (use a peeler to peel off long pieces of orange peel)
1 sprig fresh rosemary (optional)
Instructions
Place all ingredients into a saucepan.  Cover with 5 cups of water.  Bring to a boil on the stovetop.  Once it's boiling, reduce the heat to low (barely on) and simmer for hours.  Check the water each hour, adding more as needed (you never want it to dry up).

To make gift bags, put ingredients in a plastic or cello bag and place in a gift bag.  Attach a gift tag with the directions.
Notes
Put this on the stove on Thanksgiving or Christmas morning to set the festive mood and aroma.  Use it after finishing the Thanksgiving meal as an air cleanser, so to say, before dessert.  Throw it on whenever you need a little bump in holiday spirit.
This recipe is fluid and can be changed with pantry's contents.  Leave something out, add something in.  It's going to smell yummy!
If making gift bags, leave out the things that are perishable, like the rosemary, as it won't look green by the time they use it.  The cranberries will be fine for a few days, but assemble the bags close to the giving away date.  Suggest refrigerating the bag until use.
For my gift bags, I peeled orange peel strips the night before and let them to dry on the counter before adding to the bags.
If you want to make something drinkable, sub the water for apple juice or cider.  Follow directions, but only simmer for 15-30 minutes.  Take it off the heat, pour it into mugs, and enjoy.
If you make Simple Holiday Stovetop Potpourri, snap a photo and share it with the tag #flourandco.  Enjoy!