Part of the Christmas series featuring Flour & Co Bakers and their favorite holiday recipes.
As a continuation of the 2017 holiday series featuring my talented Flour & Co baking team (read our collaborative Thanksgiving post), I've roped in six of my favorite bakers from over the years to reminisce about surviving the holidays in a demanding professional kitchen, and to share their cherished Christmas recipes.  Jean's sharing her family's favorite go-to holiday dessert: Cranberry Apple Crunch.
Meet Jean!  She joined Flour & Co in Berkeley just after moving from Arkansas.  We were lucky to snatch her up as her first job in CA, and her first job out of culinary school.  Jean stood out to me from the beginning because she always had a smile on her face, she'd be up for any task put in front of her, and she'd sing her way through the day.  Jean's flexibility, in all directions, makes her a wonderful asset to a baking team!  When we closed our Berkeley location and moved back to our San Francisco kitchen, Jean signed up for the move, even though she lived 45 minutes outside of the city.  She was our opener and asked if she could come in early (4am start) to miss the traffic.  She was a keeper.
Jean found another job right away when the bakery closed, but I was fortunate enough to steal her away to be my sons' nanny this past summer.  She was a part of my bakery family, and now she's an honorary member of my home family too!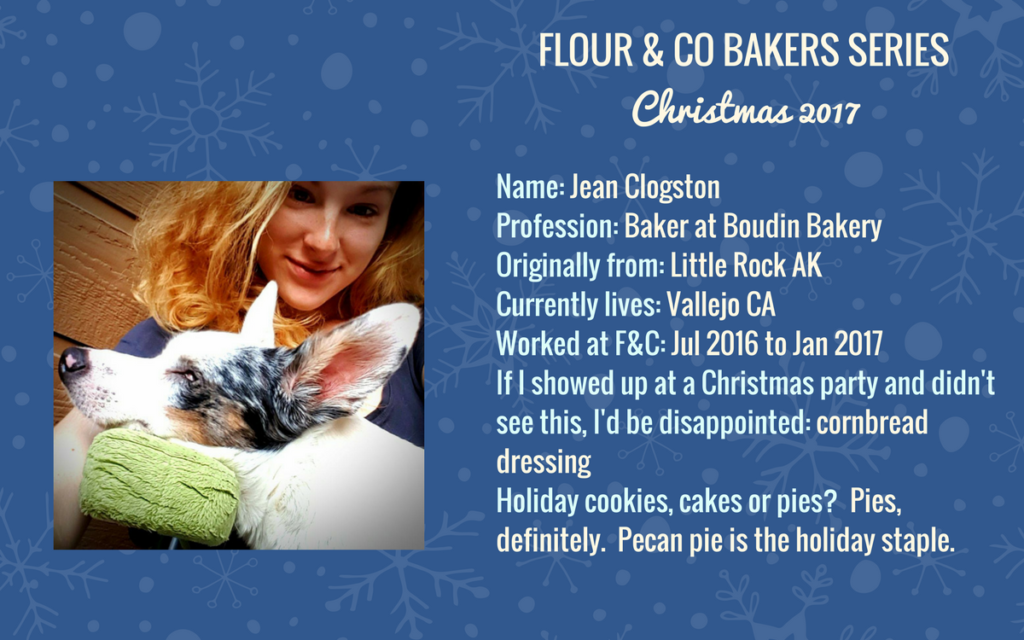 Q&A with Jean ~ 
Why/how was your experience at Flour & Co significant to you?  Flour & Co was the best place I could have imagined to start my new career as a baker. It was a home away from home that was much appreciated upon moving to a completely new place. Flour & Co was the epitome of what I had hoped for in working as a baker. I love the feel of working in a home style bakery and Flour & Co was just that. I took great pride in providing beautiful pastries from scratch for our customers. Emily and the wonderful family she created at Flour & Co made my accent into my baking career both smooth and wonderful at the same time.
Describe Flour & Co at the holidays.  While I can't say much about Flour & Co during the holidays for the guests, since I never came out of the kitchen lol, I strangely enjoyed the holiday rush. They were very busy and there wasn't much time to stop, but the wonderful team we had popped everything out with grace. It was honestly really fun just savagely working on popping out crap tons of pies and crostatas shoulder to shoulder while joking around with each other and cracking jokes. While I will never understand how a kitchen can be so hot in the middle of December, I will always look back on my Holidays at Flour & Co fondly.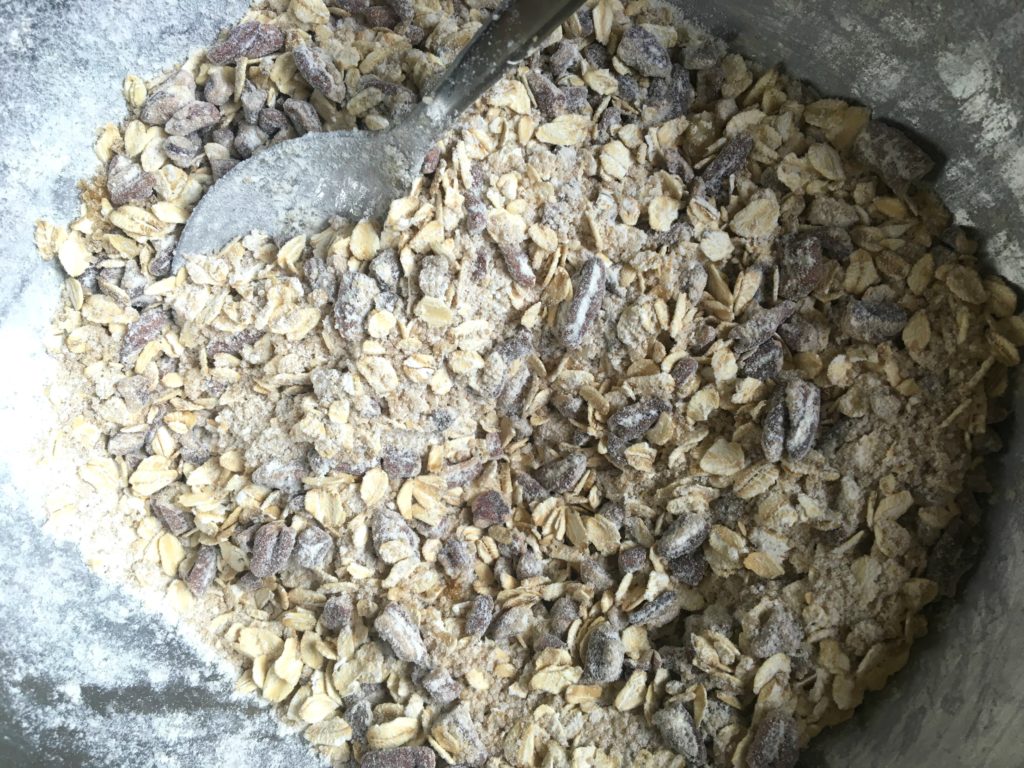 What was the hardest part about working in the kitchen during the holidays? The hardest part was probably getting everything done that needed to be done without going into OT. Also the space constrictions with so many people working in the kitchen, as well as the heat.
What do you miss most about Flour & Co?  I miss working at a homestyle feeling bakery. My current job is just making bread, so I also miss the variety that came with working at Flour & Co.  You got to make a little bit of everything. I miss our Flour & Co family, and working in the city (though i don't miss the drive). But I really really miss the pimento cheese buttermilk biscuits.
If you could put together your favorite Christmas dessert table, what would be on it? Brownies, chocolate cream pie, coconut cream pie (because the family likes it), two pecan pies, and white chocolate and apple bread pudding.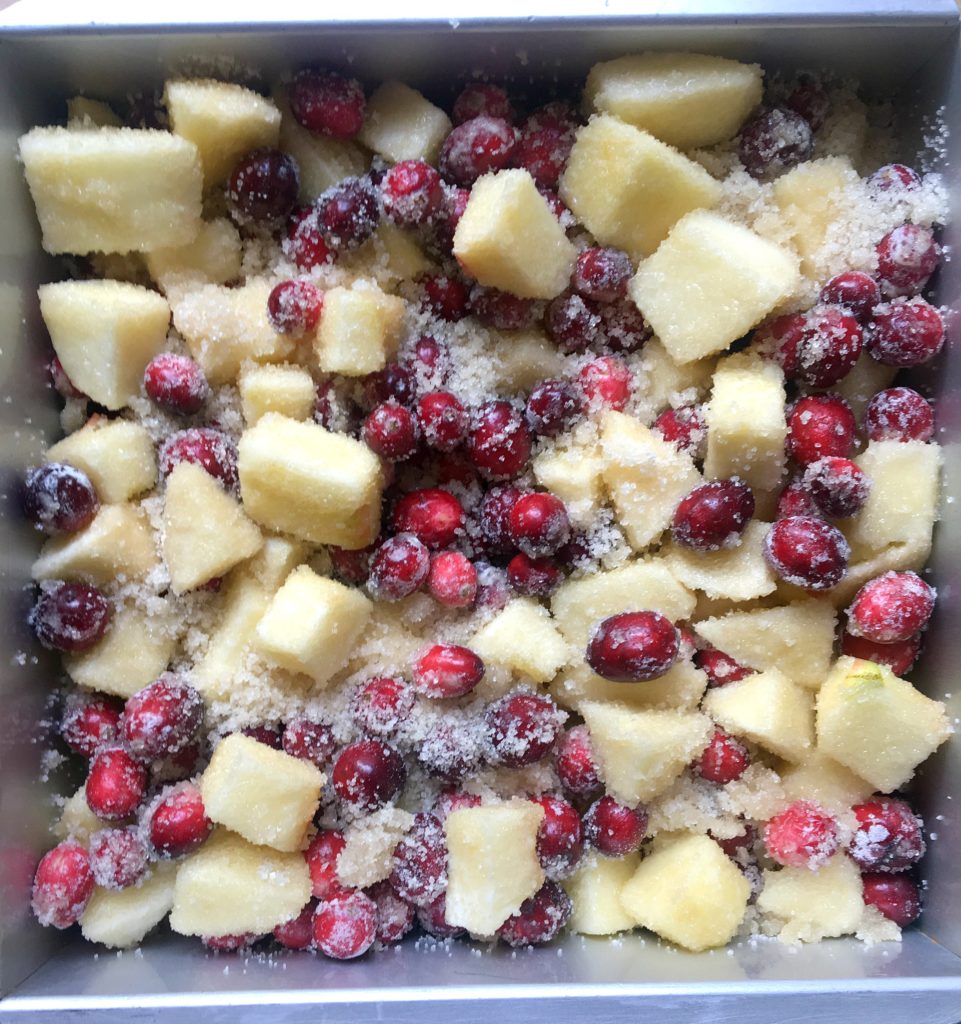 I love holiday baking because…It is a staple and tradition in my family. Every year since I was able, I've always helped my mom bake holiday desserts.
What's your favorite family tradition for Christmas?  In my family, we always give christmas eve presents. They are always a new pair of pajamas to wear that night and mine always matched my moms and my brothers matched my dads.
Why are you sharing this recipe?  This is one of my all time favorite holiday recipes. It can be served for breakfast, as a side dish, or for dessert. We commonly make it for brunches, and always on Thanksgiving and Christmas (used some leftovers of it as a side to pork tenderloin and it was delicious!).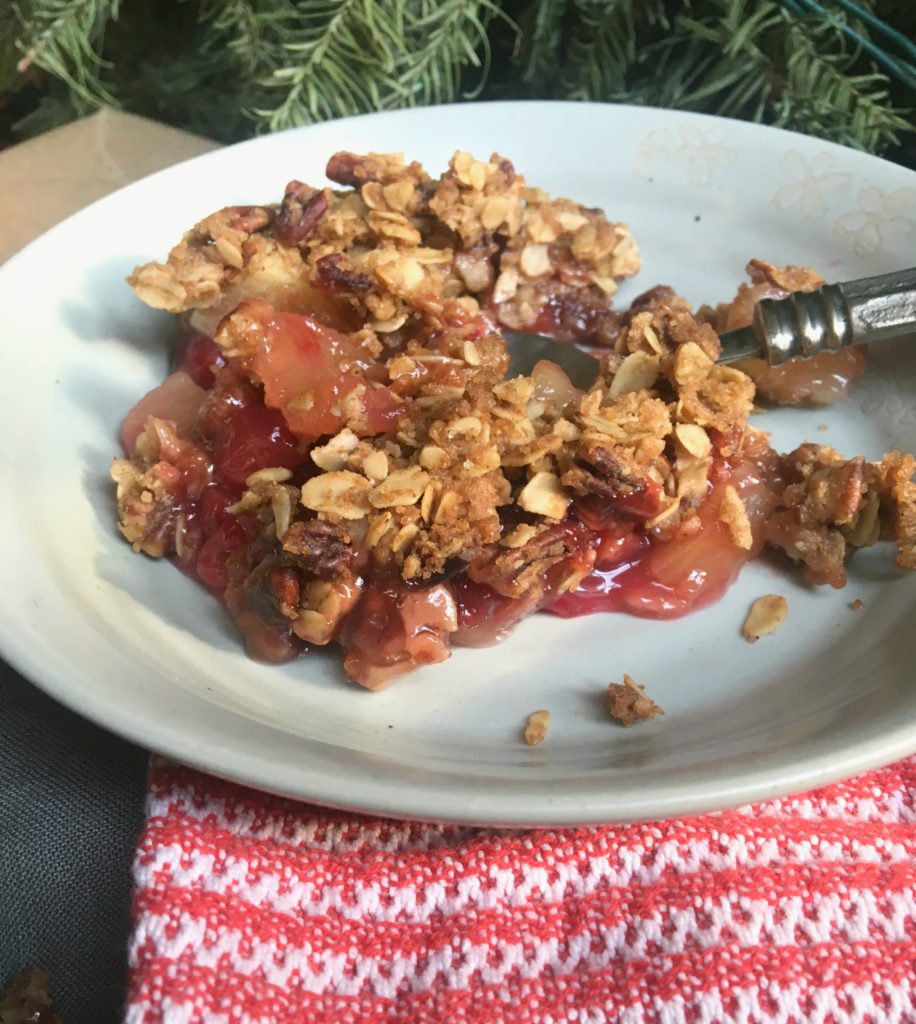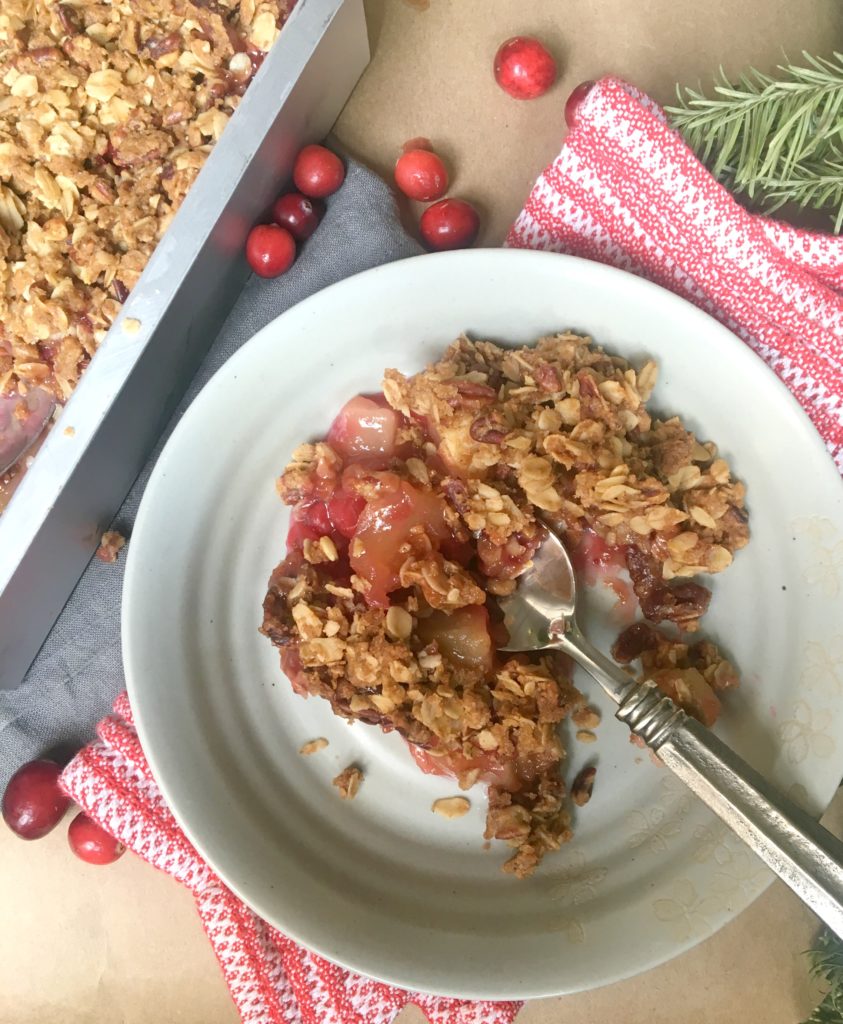 Print
Christmas: Cranberry Apple Crunch
This is one of my all time favorite holiday recipes. It can be served for breakfast, as a side dish , or for dessert. We commonly make it for brunches, and always on Thanksgiving and Christmas (used some leftovers of it as a side to pork tenderloin and it was delicious!).
Author:
Prep Time:

15 min

Cook Time:

60 min

Total Time:

1 hour 15 minutes

Yield:

9 servings

Category:

Dessert
Ingredients
Filling:
3 cups chopped, peeled apple (about 2)

2 cups fresh or frozen cranberries
3T all-purpose flour
1 cup granulated sugar
Topping:
3 packets (1.51 ounces each) cinnamon spice instant oatmeal

3/4 cup chopped pecans (optional)
1/2 cup all-purpose flour
1/2 cup brown sugar
1/2 cup unsalted butter, melted
Instructions
Preheat oven to 350 degrees and butter a 9×9 baking dish.

In a large bowl, mix together chopped apples, cranberries, flour, and sugar and mix well. Pour into the prepared baking dish.

In the same bowl, mix together instant oatmeal, nuts, flour, and sugar.

Pour in melted butter and mix until all dry ingredients are wet.

Crumble over fruit mixture evenly over the pan.

Bake, uncovered, for 45-60 minutes or until fruit is bubbly and tender.

Serve with vanilla ice cream if desired.
Notes
You can use 1 1/4 cup quick cooking oats and add 1 1/2 tsp cinnamon and 1/4 tsp nutmeg instead of using the cinnamon spice instant oatmeal packets.
Happy holiday or Christmas baking!  If you make this Cranberry Apple Crunch, tag #flourandco with your photo.  We'd love to see your creation!