We're almost a week into December and it's getting real.  Here's a breakdown:
18 days until Christmas Eve
6 days until the start of Hanukkah
3 days to find that special holiday party outfit (prime party weekend is upon us)
12 days (give or take) to purchase and ship the perfect stocking stuffers and/or gifts
other things to fit in the next 18 days: cookie baking, holiday lights viewing, friend and family visits, attending a holiday performance, gift wrapping, menu planning, workouts to make up for the holiday indulgences. I think the list goes on. It's no wonder that work productivity is on a landslide for the rest of the month.  Take a deep breath and exhale.
Confession: gifting is a major weakness of mine, but don't give up on me yet.  A big part of it can be attributed to my lack of planning, usually related to too much work…which ends in a gift that isn't well thought out or personal…which ends in me being really stressed out about the whole thing…which ends in me not feeling good about what I'm gifting.  My frugality doesn't help either.  I sometimes make gift decisions based on a price tag rather than optimizing for the moment.
The other part of it is that gift giving and receiving is my least favorite part of the holidays (exception: kids).  It's everything else that makes the holidays special (to me): decorations, music, lights, movies, gatherings, and food.  The gifting part seems to bring out the worst in some people.  It's so often over the top, commercialized, and transactional. Furthermore, in my experience, it ends in one party or the other feeling bad or breaking the bank to meet expectations.  And, wouldn't it be nicer to spend money on having a nice meal with someone, or doing something fun together, or traveling to see someone, or donating time or money to make less fortunate kids feel special?
Ok…my confessional turned venting ends here.  Gift giving CAN be fun.  When you take away the factor of time, one can find fitting gifts that are unique, thoughtful, personal, and even humorous. Lucky for me, I have some time on my hands this year, and so I've curated a list of some pretty cute gifts for the foodies in our lives.  This holiday season is therapeutic for me given my crazy work schedule the last many years, so this gift guide is my next step in self-therapy.  I'm trying to make gift giving fun again with proper planning, research, and creative options.  So, here goes…my first gift guide.
Note: this list includes affiliate links.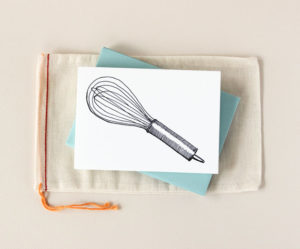 Note: this list includes affiliate links.
Enjoy the season, gifting in whatever way makes you feel special and festive.  Remember: it's the thought that counts and time together or meaningful words is the best gift you can give.  Happy Holidays!
xo Emily
---
Also published on Medium.