It's with some tears and a huge dose of nostalgia that I share with you our closure as of Tuesday, January 31, 2017. We've loved being a part of our Lower Nob Hill neighborhood and your daily lives over the past (almost) four years. You've made us soar and the years fly, by giving us your business, friendship, and support. Thank you so very much for being a part of this amazing journey.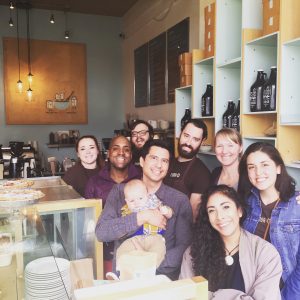 On the other side of tears is some relief, excitement, and opportunity. With two little boys at home (8mos and 2yrs), my family calls. I'm so looking forward to spending more time with them and getting to know a work-life balance. This lovely city that we live in has been wonderful to us and we've seen so many successes and joys over the years, but it has also kicked the *flour* out of us a time or two. I'm ready for a little rest and variety beyond baked goods.
I also look forward to getting back into recipe testing, eating other people's baked goods, and all of the baking-related things that got me here in the first place. I plan to blog about it once I take a little break, so follow our blog for the latest.
I, and my wonderful team, send great big hugs and thanks to all of you. We hope to continue the friendships that have been forged by Flour & Co even after this chapter ends.
Best wishes,
Emily Day