I've found that I'm doing a lot of these lately…vvvvvvvvvvvvvvvvvvvvvvvvvvvv.  Sitting down at my computer is an occupational hazard.  My eyes immediately close and my finger presses down on any given letter until I jolt awake.  I delete the jibberish and try to start all over again, usually with a similar outcome.  It's just better if I stay standing.
This is the point in the journey when some may give up or take short cuts.  It's where romantic ideas turn incredibly real.  There's no romanticizing getting up at 2am, working until 10pm (with less than an hour sitting down) and then doing it all over again.  There's nothing comforting about wondering if you'll be able to meet payroll requirements in the first month (and probably the 2nd).
You've got to really love what you do (and maybe be a little foolish) in order to put yourself through such demands and stresses.  No pain, no gain.  Right?
It's also the point that your team makes you or breaks you, and I have an awesome one. Team work is the only way to get through this.  My production manager, Jamy, is great at what she does and is willing to work side by side with me through the thick and thin (it's thin ice most of the time these days) .  The rest of the team is on my side too.  Their commitment towards my/our common goal makes me smile every day.  I seriously couldn't do it without them.
But, through this roller coaster ride of emotions, there's also something incredibly exhilarating.  I mean, we are open for business for goodness sakes!  That's what I've been planning for and working towards for months.  It's the light at the end of the long tunnel.  It's a light that I know will get brighter as we get on our feet.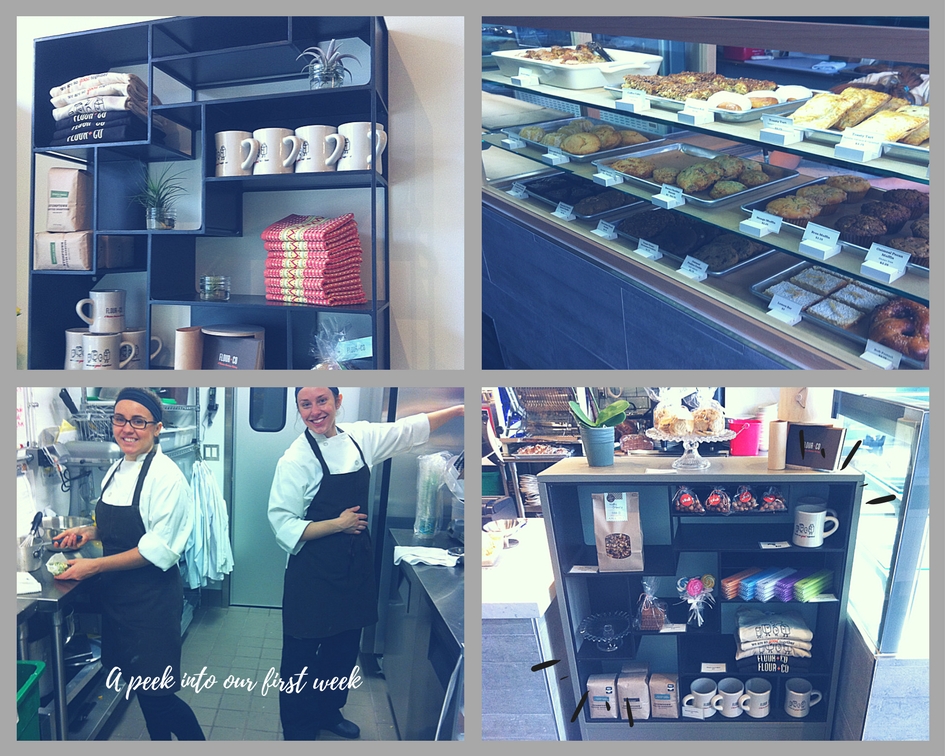 What helps brighten the light?  Well, getting to know the neighbors by name is one.  It's like making new friends in the first few weeks of school.  You know they'll be a part of your life for years to come and it's so nice getting over the awkward stage of asking them their names 3 times before you can call them friends.
Another light brightener is simply seeing my vision (and the work of some talented people) become reality right before my eyes.  It still makes me smile when I walk in the door.  'Is this for real' and 'is this really mine' often goes through my mind…still!
Seeing people bite into a baked good and say it's the best they've had or simply smile is another way to make the effort seem worth it.  Being recognized by some fantastic foodies out there (Tablehopper, Daily Candy, Thrillist…) also feels pretty good.  Relief is a word that comes to mind too.  Until unrelated people taste something that you created and like it, you just never know.
So, here I am at the fork in the road.  I've been on quite a journey just to get to this point.  Now, a change in direction leads me towards the light, as well as opens my eyes to new stresses and obstacles.  Let's just say that life isn't boring.
~ Emily