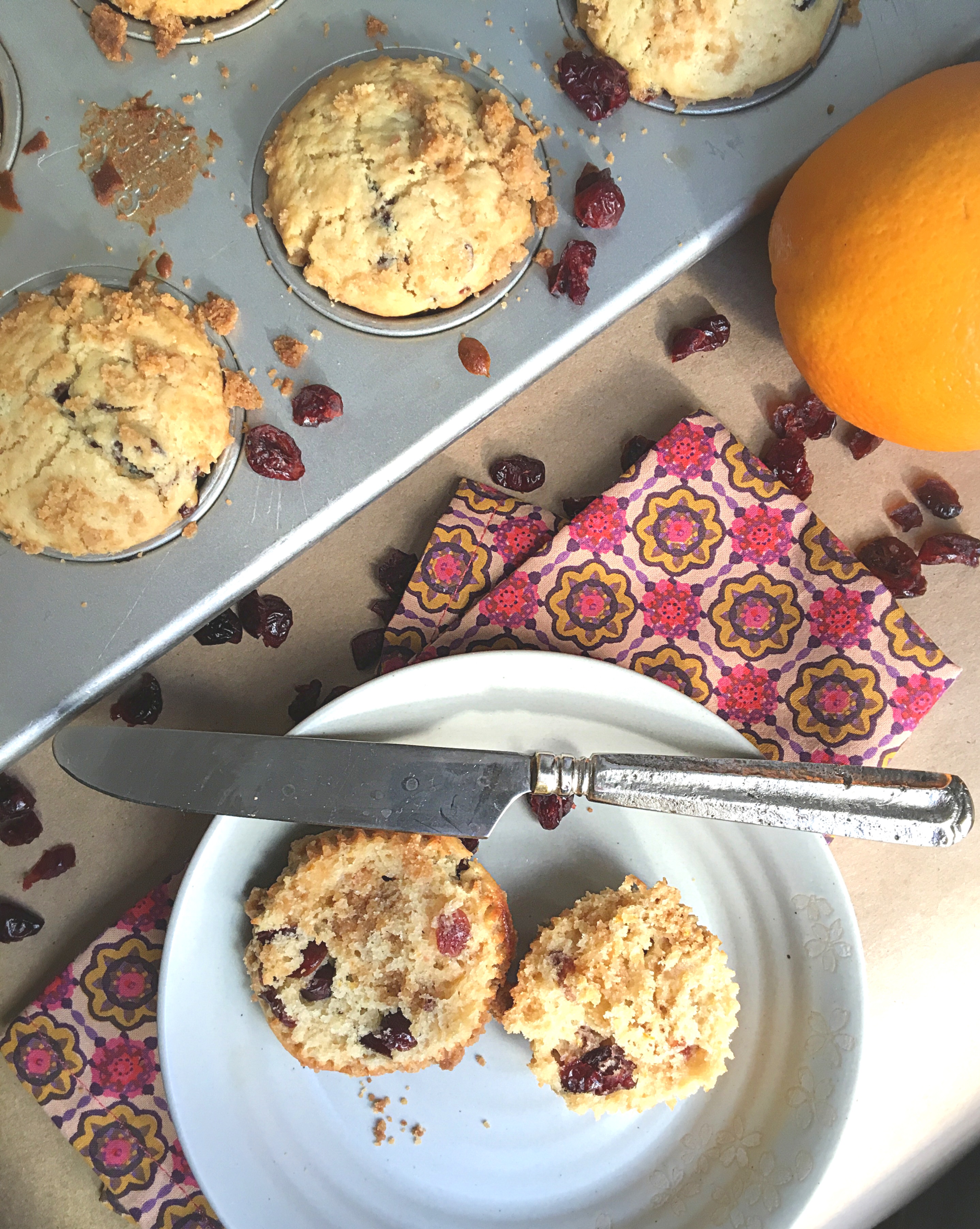 Happy new year, or should I say happy flu year!?  Geesh, we've seen all kinds [of flu] in our household, hence, this very delayed first post of the year.  I think we may be through it now, and I hope you are too if you've had a similar beginning to 2018!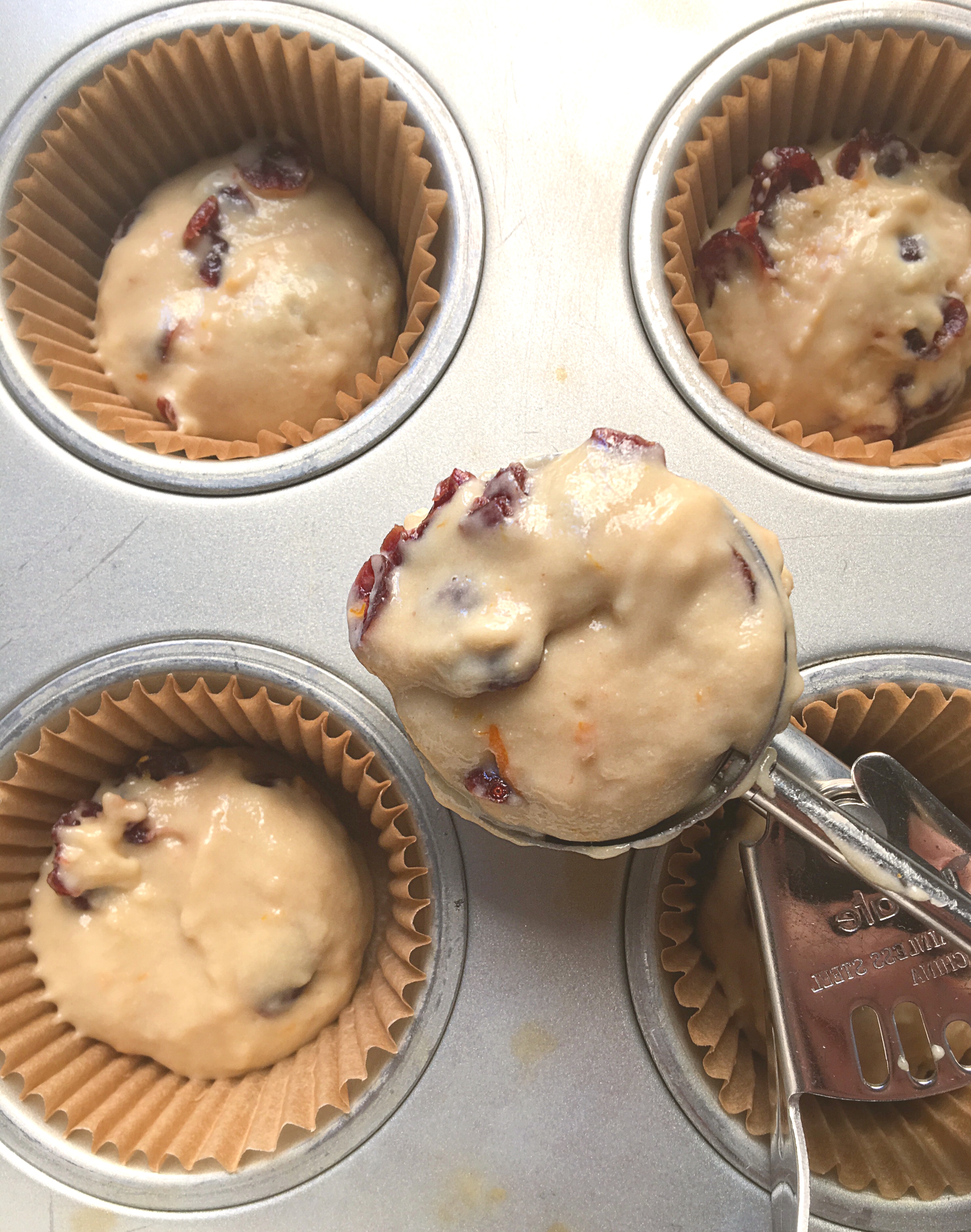 Luckily, our sickly start has not put a damper on my optimistic outlook for the year. I don't make new year's resolutions, but with every year climaxing in December's holiday madness, I find January to be a serene period ripe for reflection, and a natural time to evaluate progress and update goals. Call it strategic life planning.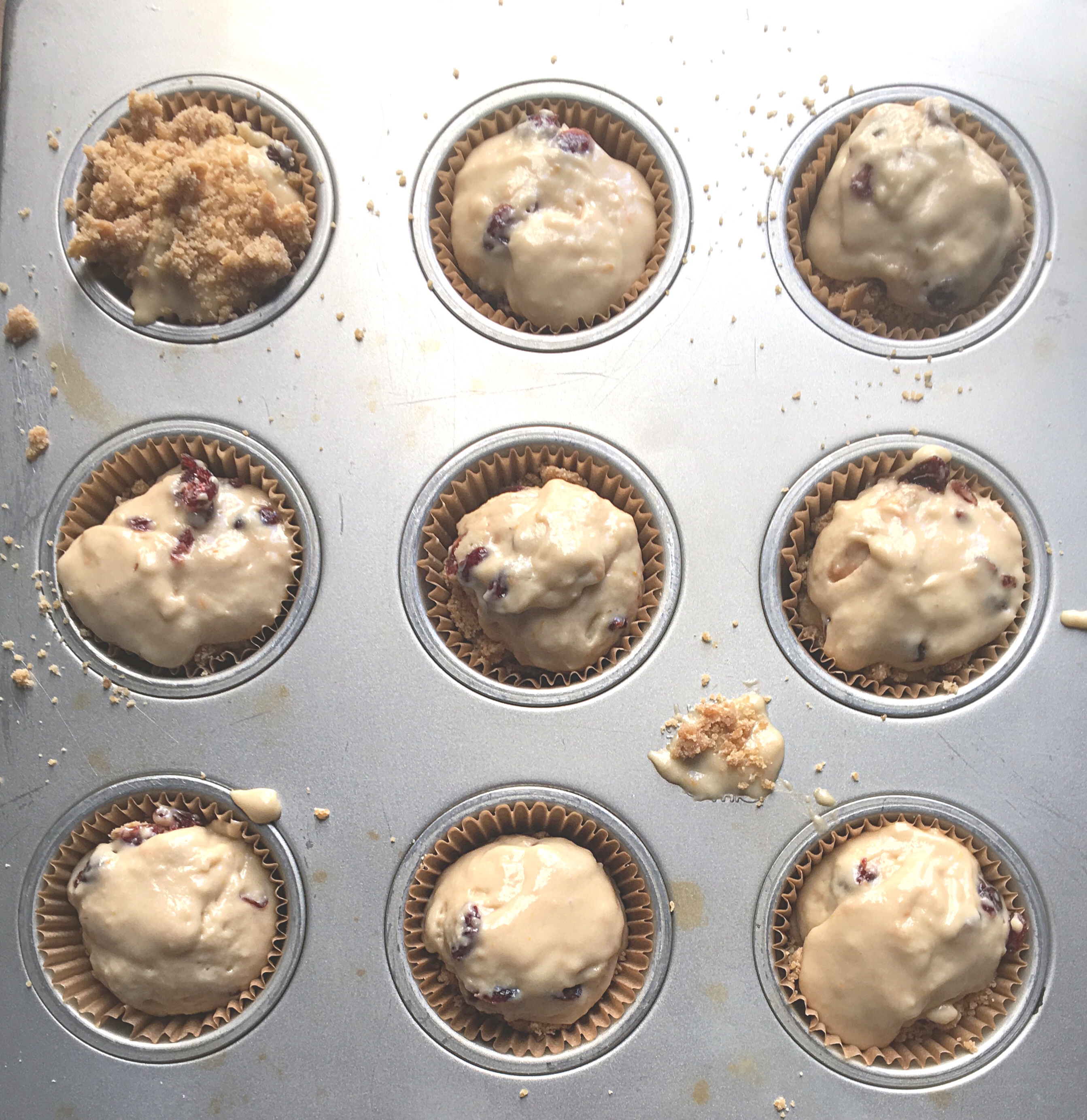 I, also, appreciate January for the return of moderation.  I like indulging over the holidays without putting a thought to it, and then it feels good getting back to normal.  Of course, normal includes baked goods, just in a thoughtful volume.  Winter's Cranberry Orange Muffin fits into this mold (put away the super-sized muffin tins), and you will rejoice when a home baked muffin comes out of the oven on a wet, cold, wintery morning.  Oven –> Table –> Slab of butter while still warm –> Mouth.
This muffin, in particular, is a pretty perfect baked good for January.  A new year means getting back into school and work routines, all of which seem a little bit harder in the dead of winter.  Ok — it does feel funny saying dead of winter living in California, but the Minnesota in me never dies, and I'm spiritually with my fellow nice (and frigid) people right now.  The point is, make this muffin batter ahead for a quick bake on a school or work day…or for strategic life planning nourishment.  It uses dried fruit and winter citrus, so it's as simple as it gets, and you probably never have to leave your pantry.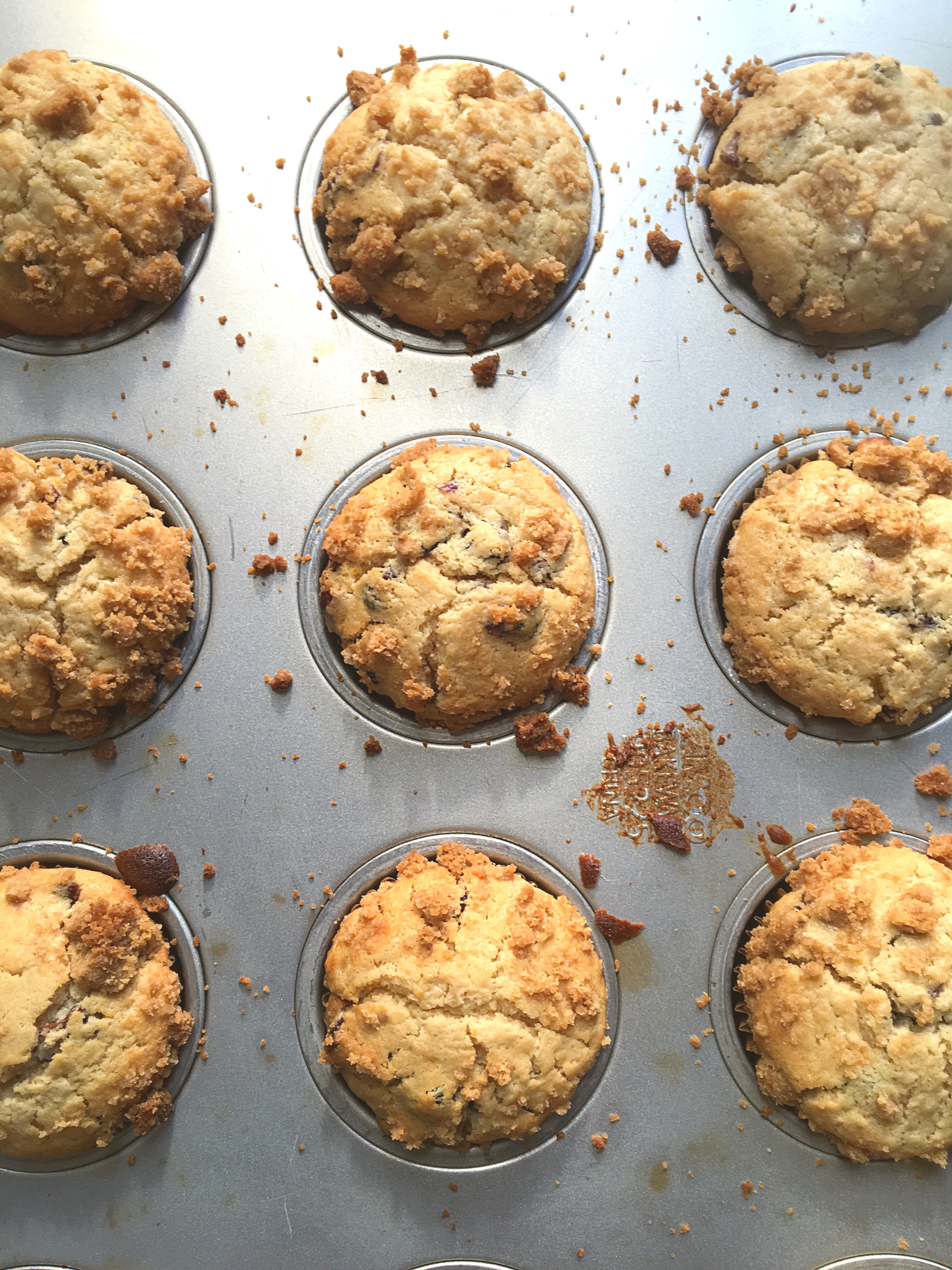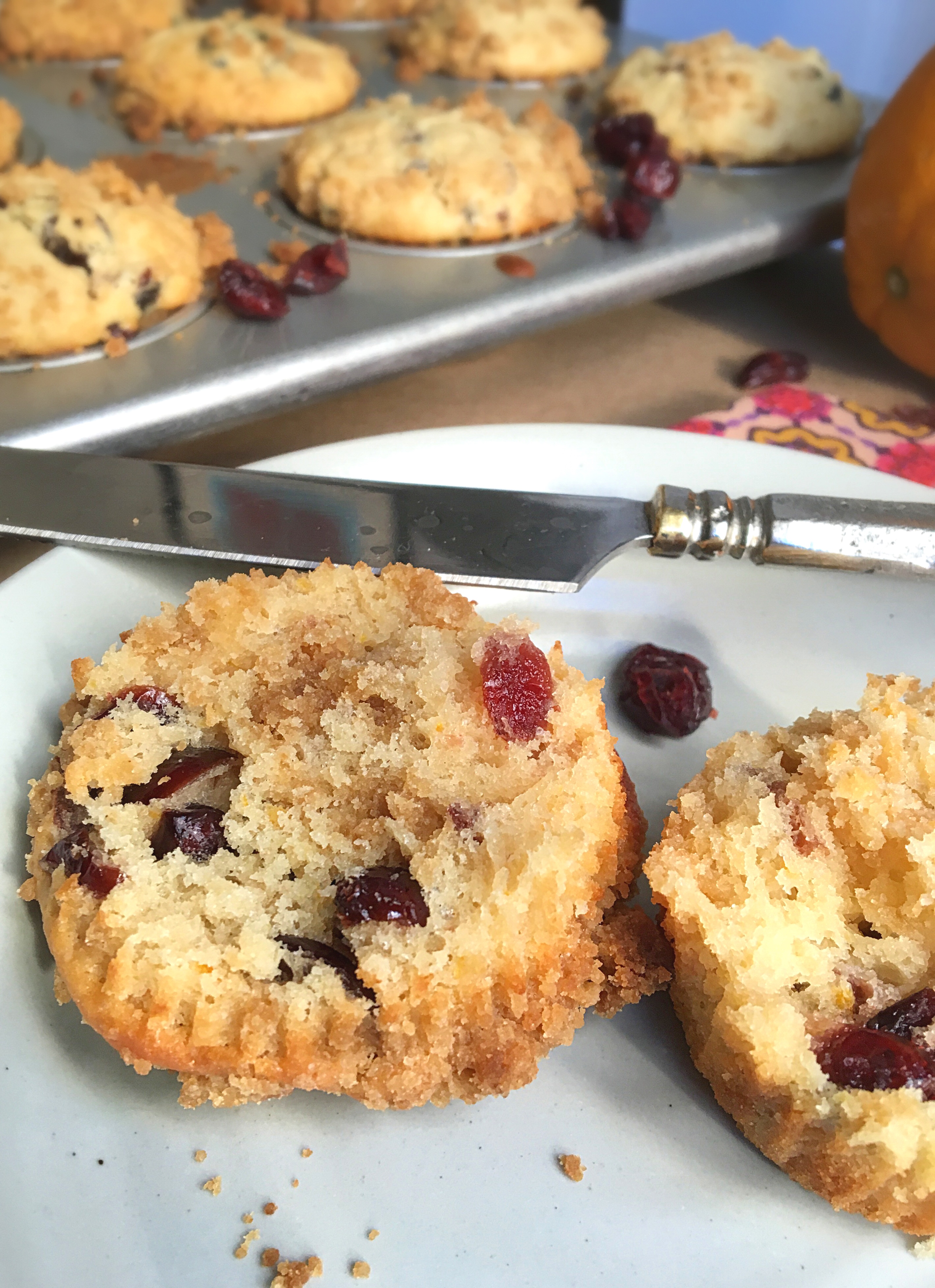 Print
Cranberry Orange Muffin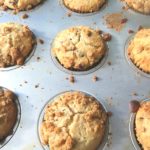 This classic muffin is so versatile, shown here with dried cranberries and orange zest for a perfect winter breakfast treat.
Author:
Prep Time:

15 min

Cook Time:

19 min

Total Time:

34 minutes

Yield:

10 muffins

Category:

Quick bread & Muffins
Ingredients
Streusel Ingredients:
1.5T (.667 ounces) granulated sugar
1.5T (.667 ounces) light brown sugar
1/8 tsp kosher salt
1/3 cup (1.75 ounces) all purpose flour
2.5T (1.25 ounces) unsalted butter, melted
Muffin Dry Ingredients:
2 cups (8 ounces) all purpose flour
2 tsp baking powder
1 tsp kosher salt
Muffin Wet Ingredients:
1/2 cup (4 ounces) unsalted butter, melted
1/4 cup (2 ounces) granulated sugar
1/4 cup (2 ounces) light brown sugar
1 egg (2 ounces)
1 tsp pure vanilla extract
1 tsp orange zest
1 cup (8 ounces) buttermilk
1 cup dried cranberries
Instructions
Preheat the oven to 375 degrees.
Grease or line 10 cups of a standard muffin tin.  Set aside.
For streusel:
In a bowl, mix together everything except butter until combined.  Add the melted butter and mix with spoon or hands until it's incorporated and crumbly.  Set aside.
For the muffins:
In a small bowl, combine the dry ingredients.  Set aside.
In a large bowl, whisk together the melted butter, granulated sugar, and brown sugar.  Add the egg and vanilla. Whisk. Add the orange zest and buttermilk.  Whisk.  Sift the dry ingredients into the bowl.  Using a spatula, stir just until the flour has just been incorporated.  Fold in the dried cranberries.  Do not over mix.
Fill each muffin cup about half way full with batter (approx 2T).  Sprinkle each cup with a generous 1 tsp of streusel.  On top of the streusel, fill each cup almost to the top with batter (approx 2T).  Sprinkle each cup with an additional generous 1 tsp of streusel.
Bake at 375 (middle rack) for 19-21 minutes or until a toothpick comes out clean.  Ovens vary greatly, so start at 19 minutes and test with a toothpick from there.  Let cool.
Notes
I'm a firm believer that baked goods all taste best when fresh.  This batter works great in the refrigerator for up to three days (in an air tight container).  The streusel will hold at room temperature (don't refrigerate), in an air tight container, for up to three days.  So, bake only as many as you want to eat today. Bake more tomorrow.  If following this method, take the batter out 10 minutes before portioning into the muffin cups.  The bake time will likely be 2-4 minutes longer.
I love baking with a scale – a habit from recipe development and the bakery, so I've included weights on many ingredients in case you like doing the same.
Don't buy buttermilk just for this recipe.  If you have white vinegar or lemon juice at home, put 1 tablespoon in a 1 cup measuring cup.  Fill the rest with milk (whole if you have it).  Let it sit for a few minutes before adding to wet ingredients.
I like using pastry flour for this muffin (and it's what we did at the bakery) as it makes for a slightly more delicate crumb, but all purpose flour works just as well (and you have it in your pantry).
Portion scoops (aka dishers) are amazing for a clean and consistent muffin cupping.  Use a black #30 scoop (1 ounce) for the batter if you happen to have one (scoop, streusel, scoop, streusel). See more on this here.
We used organic flour, butter, sugar, eggs, and milk at the bakery which I also try to do at home.  Great ingredients make for great baked goods!
Happy baking!  I'd love to see your creations, so if you bake these, post your photos with the tag #flourandco!